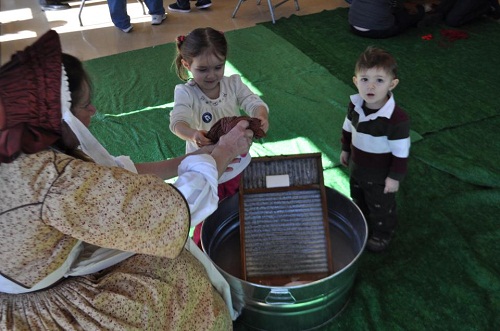 News Release Date:
March 30, 2013
Contact: Emily Prigot, 508-996-4095 x6105
AHA! Night, Thursday, April 11
AHA! events at National Park Visitor Center
ew Bedford, Mass.- New Bedford Whaling National Historical Park's visitor center will be buzzing with activities on AHA! (Art, History, Architecture) night, Thursday, April 11. The theme that evening is Sustainable South Coast. Clean up your act with Ruth and Abby, the national park's 1850s ladies. From 6:00-8:00 pm, the ladies will be discussing and displaying the ways they cleaned their houses back in those days. The park visitor center has a new traveling exhibit, "Arrange for Change," on climate change, how it affects us, and steps we can take in our daily lives to slow it down. The exhibit was created by John Morris from the Alaska Regional Office of the National Park Service in cooperation with staff from NASA. In addition, from 5:00- 7:00 PM, Northeast Ear, Nose and Throat of Dartmouth, MA and UMass Dartmouth Department of Music are collaborating to celebrate "World Voice Day," an international health observance day for the human voice. At 7:30 PM, Working Waterfront Festival presents a showing of the film Red Gold, a film that documents growing unrest among native, commercial and sport fishermen in Bristol Bay, Alaska. These fishermen oppose the proposed Pebble Mine which could destroy the world's two largest remaining sockeye runs. Sarah Schuman, who fishes out of Bristol Bay, will lead a post-film discussion. All events take place at New Bedford Whaling National Historical Park's visitor center, located at 33 William Street in downtown New Bedford. As always, admission is free.
New Bedford Whaling National Historical Park was established by Congress in 1996 to help preserve and interpret America's nineteenth century whaling industry. The park, which encompasses a 13-block National Historic Landmark District, is the only National Park Service area addressing the history of the whaling industry and its influence on the economic, social, and environmental history of the United States. The National Park visitor center is located at 33 William Street in downtown New Bedford. It is open seven days a week, from 9 AM-5 PM, and offers information, exhibits, and a free orientation movie every hour on the hour from 10 AM-4 PM. The visitor center is wheelchair-accessible, and is free of charge. For more information, call the visitor center at 508-996-4095, go to www.nps.gov, or visit the park's Facebook page at https://www.facebook.com/NBWNHP.
-NPS-