Date:
January 8, 2016
Contact:
Laura Orleans
, 508-993-8894
Contact:
508-996-4095 x 6105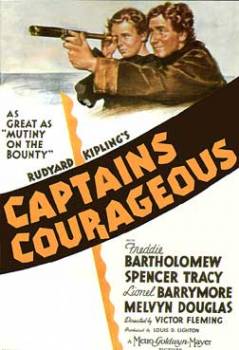 The Dock-U-Mentaries Film Series continues on Friday, January 15th at 7:00 PM with a screening of the 1937 classic Captains Courageous. 
Dock-U-Mentaries is a co-production of New Bedford Whaling National Historical Park, the New Bedford Fishing Heritage Center, and the Working Waterfront Festival. Films about the working waterfront are screened on the third Friday of each month beginning at 7:00 PM in the theater of the Corson Maritime Learning Center, located at 33 William Street in downtown New Bedford. All programs are open to the public and presented free of charge. This month's program is co-sponsored by the Schooner Ernestina-Morrissey Association, Inc. 
Based on a story by Rudyard Kipling, this classic film from 1937 chronicles the friendship that develops between a rich and spoiled young boy and the hardworking Portuguese fisherman who saves him from a watery grave when he falls off an ocean liner and is picked up by a Gloucester fishing vessel off the Grand Banks. Directed by Victor Fleming, the film was nominated for four Academy Awards (Best Picture, Best Film Editing - Elmo Veron, and Best Screenplay - Marc Connolly, John Lee Mahin, Dale Van Every) with Spencer Tracy taking home his very first Best Actor Oscar. 
The New Bedford Fishing Heritage Center, Inc. is a non-profit organization dedicated to preserving and presenting the history and culture of New Bedford's fishing industry through exhibits and programs.