Date:
March 6, 2016
Contact:
Emily G. Prigot
, 508-996-4095 x 6105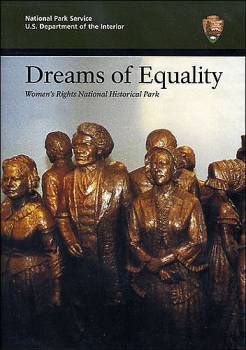 Women may take for granted the right to vote in this country. That right came as a result of a long, hard-fought battle, one that has relevance to this day. This coming AHA! night, Thursday, March 10, New Bedford Whaling National Historical Park will be celebrating Women's History Month by screening the DVD "Dreams of Equality." This free event will take place at Corson Maritime Learning Center at New Bedford Whaling National Historical Park, 33 William St., downtown New Bedford. Screenings will take place at 5:30, 6:30 and 7:30 P.M.  AHA! (Art, History & Architecture) is New Bedford's free downtown cultural night and collaborative cultural organization with over 60 downtown venue partners.  For more information about AHA!, go to www.ahanewbedford.org.
"Dreams of Equality" is a documentary drama that chronicles the early struggles of the Women's Rights Movement and personalizes them through an exchange of letters between a sister and brother. History comes to life as dramatic recreations of the First Women's Rights Convention held in Seneca Falls, NY in 1848 and other historical events are combined with contemporary segments in which young people engage in candid exchanges in about the roles of men and women. 
Issues of political equality, traditional women's roles, marital finances and educational opportunities for girls are still relevant today-- almost 170 years later.