Date:
June 22, 2016
Contact:
Emily G. Prigot
, 508-996-4095 x 6105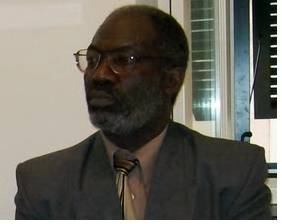 Dr. Trevor Hall will present a lecture on Cape Verdean connections to the Atlantic Slave Trade as written in his recent book Before the Middle Passage:Translated Portuguese Manuscripts of Atlantic Slave Trading from West Africa to Iberian Territories, 1513-26 at New Bedford Whaling National Historical Park's theater on Thursday, June 30, 2016, from 6:00-7:30 PM. His book translates into English the Portuguese customs receipt book for the Cape Verde colony for 1513-1516. His book also includes a translation of the on-board log of the ship Santiago when it sailed from Portugal to Sierra Leone to Guinea Bissau and then transported enslaved Africans to Portugal. The park is located at 33 William Street, downtown New Bedford and admission is free. This event is sponsored by New Bedford Whaling National Historical Park and the New Bedford Historical Society.
Dr. Hall is a consultant in the areas of Education, Portuguese Cultures, and Sports in Jamaica, West Indies. He has been a Visiting Lecturer in African History, World History, and Portugal in Africa at University of Massachusetts Dartmouth. Dr. Hall has also been Associate Professor of African History and Political Science at Northern Caribbean University, Assistant Professor and Chairman of History at Bethune-Cookman University, and Assistant Professor and Instructor in History at Arizona State University.
Currently Dr. Hall serves as Vice President on the Board of Directors of the Antonio de Noli Academic Society and presented a paper on "Governor Antonio de Noli and His Family in the Cape Verde Islands and Portugal" at the Conference on Antonio de Noli, in Noli, Italy, September 2010.