Date:
March 28, 2013
Contact:
Emily Prigot
, 508-996-4095 x6105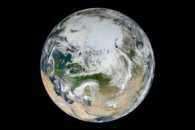 New Bedford Whaling National Historical Park hosts "Arrange for Change" Traveling Exhibit
April 1-April 30, 2013 ENCORE through May 31, 2013
What are the factors that lead to these changes? Explore the answers to these questions at New Bedford Whaling National Historical Park. Beginning April 1, the park will be hosting "Arrange For Change," a free traveling exhibit which examines global climate change and how it impacts our world. Created by the National Park Service in cooperation with NASA staff, "Arrange for Change" will be on display in the National Park Service visitor center at 33 William Street from April 1-April 30, 2013.
Data gathered from national parks has been critical to our scientific understanding of the impacts of global climate change. "Arrange For Change" raises public awareness and uses information from national park studies to illustrate these impacts. This information can guide our choices now and help to avoid catastrophic outcomes in the future. A brochure, "Climate Change In National Parks" is available at the park visitor center and online at the Climate Change Response Program at https://www.nps.gov/climatechange/ .
Jen Nersesian, superintendent of New Bedford Whaling National Historical Park, said, "Our national parks are our national treasures. Glacier National Park's signature resources are melting as we speak. In Joshua Tree National Park, the iconic trees for which the park is named are dying out. Even in an historical park like New Bedford Whaling our cultural resources face threats from climate change, from weather and flood-related impacts to historic buildings, to impacts to the fishing industry from ocean acidification and sea temperature change. We must all collectively understand what is taking place and the small actions we can take to make a positive change in our environment."
National parks are living laboratories for study of climate change, and can offer powerful examples of how individuals and organizations alike can take steps to slow or diminish these changes. With this in mind, New Bedford Whaling National Historical Park started recycling in 2008. In 2012 alone, the park reduced its garbage that would have gone to a landfill by over 50%. In addition, it also recycled almost 19 pounds of glass, 18 pounds of metal, 58 pounds of plastic, 452 pounds of cardboard and 3,000 pounds of paper!
New Bedford Whaling National Historical Park was established by Congress in 1996 to help preserve and interpret America's nineteenth century whaling industry.The park, which encompasses a 13-block National Historic Landmark District, is the only National Park Service area addressing the history of the whaling industry and its influence on the economic, social, and environmental history of the United States.The National Park visitor center is located at 33 William Street in downtown New Bedford. It is open seven days a week, from 9 AM-5 PM, and offers information, exhibits, and a free orientation movie every hour on the hour from 10 AM-4 PM.The visitor center is wheelchair-accessible, and is free of charge.For more information, call the visitor center at 508-996-4095, go to www.nps.gov, or visit the park's Facebook page at https://www.facebook.com/NBWNHP.
-NPS-