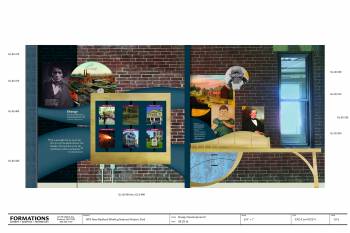 News Release Date:
November 3, 2016
Contact: Emily G. Prigot, 508-996-4095 x 6105
Contact: Josh Boles, 508-996-4095 x 6103
New Bedford Whaling National Historical Park is about to turn twenty years old. This coming AHA! Night, Thursday, November 10, from 5-8 PM, join staff and volunteers for the unveiling of the art project called "20 Years of Community" in the Visitor Center. In addition, visitors may take a sneak peek at the MakerSpace installation on the second floor and chat with a ranger about the project. Finally, everyone is welcome to stop by and sign the over-size birthday card by the front desk. This free event will take place at New Bedford Whaling National Historical Park, 33 William St., downtown New Bedford. AHA! (Art, History, & Architecture) is New Bedford's free downtown cultural night and collaborative cultural organization with over 60 downtown venue partners. For more information about AHA! go to www.ahanewbedford.org.