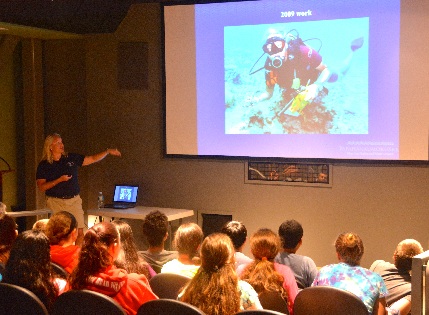 News Release Date:
September 12, 2014
Contact: Karissa DeCarlo, 508-996-4095 x6108
New Bedford Whaling National Historical Park
Receives 2014 Park Stewards Grant
THANKS TO UNIVERSITY OF PHOENIX AND SUBARU OF AMERICA, NATIONAL PARK FOUNDATION PROGRAM WILL ENGAGE TEACHERS AND YOUTH IN SERVICE-LEARNING PROJECTS IN AMERICA'S NATIONAL PARKS
New Bedford, MA (July 28, 2014) – New Bedford Whaling National Historical Park is one of 28 national parks selected to receive a 2014 Park Stewards grant from the National Park Foundation, the official charity of America's national parks. Although thousands of whaling voyages launched from New Bedford, only one whaleship remains above water. New B Under the Sea challenges maritime archaeologists from South Carolina Institute of Archaeology and Anthropology, South Carolina, Papahanaumokuakea Marine National Monument and UNESCO World Heritage Site, Hawaii, national park rangers and Greater New Bedford Regional Vocational Technical High School teachers and students to discover, interpret and share the global whaling story through service-learning curriculum and projects.
Now in its sixth year, this program gives high school teachers and students the opportunity to explore the relevance of national parks to their lives, and enables them to become civically engaged stewards of their national parks through year-long service-learning projects.
"With our Park Stewards program, teachers and students are able to explore science, nature, sustainability, and more through America's largest living classrooms –our national parks," said Neil Mulholland, President and CEO of the National Park Foundation.
The New B Under the Sea project introduces the public and educators to underwater archaeology involving shipwrecks of New Bedford whaling vessels using digital media, service learning curriculum development and pilots, distance learning options and internship opportunities through summer 2015. New B Under the Sea was launched in early 2014 with an introductory video. A companion website, www.newbunderthesea.com was designed to integrate project partners' websites to engage the public and potential collaborators in an ongoing dialogue about underwater resources related to whaling history. Partner teachers and students have already met with NOAA maritime archeologist Dr. Kelly Gleason from Papahanaumokuakea Marine National Monument during Ocean Day. The next steps for the program are finalizing curriculum with partner teachers this summer, taking service learning curriculum to the classroom during the 2014-2015 school year, further developing web presence, interacting with bringing student interns to the park during summer 2015 to provide public programming, distance learning options and expanded digital content.
"New B Under the Sea invites us to probe the depths of the ocean and increase our understanding of the unknown.There is something really special about New Bedford students and teachers discovering and sharing the fate of whaleships from our own port," said Karissa DeCarlo, park ranger at New Bedford Whaling National Historical Park.
University of Phoenix is now serving in its third year as the program's official educational sponsor. The University is committed to opening opportunities for education and workplace readiness, and supporting sustainable solutions for environmental health. Its support of the Park Stewards program helps both teachers and students build a deeper connection to and sense of stewardship for America's national parks, while offering students the chance to explore new career horizons.
"University of Phoenix is proud to once again support the National Park Foundation in helping build future generations of national park enthusiasts and supporters," said Pat Gottfried, vice president of Corporate Social Responsibility for Apollo Education Group, parent company of University of Phoenix. "The University has long supported environmental stewardship in our operations, offered sustainability-related degree programs and engaged in environmental philanthropy across the nation. We welcome the opportunity to continue to reinforce this commitment through our support of the National Park Foundation and the teachers and students it impacts."
Since 2009, the Park Stewards program has made it possible for 110 high school teachers to work in parks over their summer break, creating engaging curriculum to teach to their students in the coming school year. During their time in the parks, the teachers and park staff also develop service-learning projects for students to take part in during the school year. The projects tie to state academic standards and make meaningful impacts in the national parks. Examples of projects include monitoring water quality, creating digital history apps, hosting a BioBlitz, and designing art sculptures.
In addition, two students from each grantee school team will be selected for summer internships that will help support and grow their interest in national parks and the National Park Service.
The National Park Foundation also wishes to thank Subaru of America for their generous support of the Park Stewards program.
A listing of the 2014 Park Stewards grantees and their project descriptions can be found on the National Park Foundation website.
For more information on the National Park Foundation and how to support and protect America's national parks, please visit www.nationalparks.org.
ABOUT THE NATIONAL PARK SERVICE
More than 20,000 National Park Service employees care for America's 401 national parks and work with communities across the nation to help preserve local history and create close-to-home recreational opportunities. Learn more at: www.nps.gov.
ABOUT THE NATIONAL PARK FOUNDATION
The National Park Foundation is the official charity of America's national parks and nonprofit partner to the National Park Service. Chartered by Congress in 1967, the National Park Foundation raises private funds to help PROTECT more than 84 million acres of national parks through critical conservation and preservation efforts, CONNECT all Americans with their incomparable natural landscapes, vibrant culture and rich history, and INSPIRE the next generation of park stewards. Find out more and become a part of the national park community at www.nationalparks.org.
###