Nathan & Polly Johnson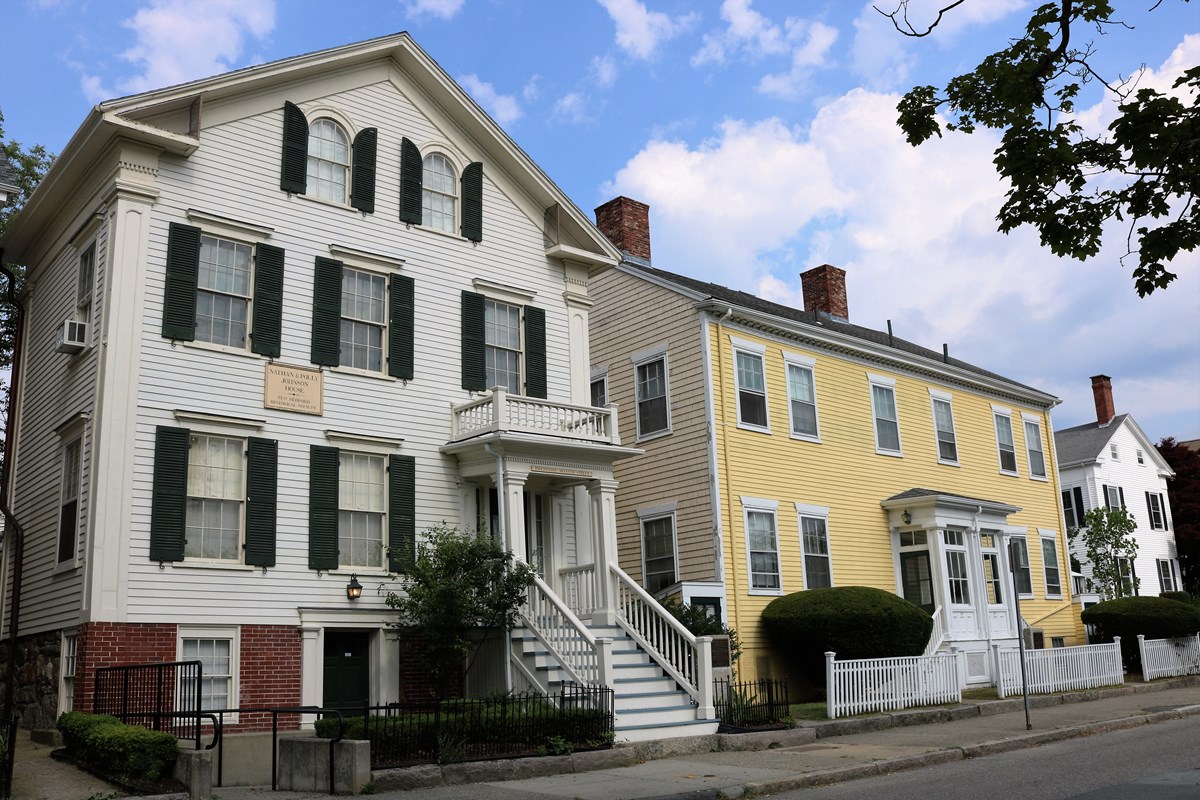 Nathan and Mary "Polly" Johnson were free blacks living in New Bedford, Massachusetts. They owned four properties, including their longtime home at 21 Seventh Street and the neighboring Friends Meetinghouse. These properties are recognized as National Historic Landmarks.

Nathan and Mary married in New Bedford in 1819. By the 1840s, the couple had established economic means with their confectioner's shop and other businesses. They were also involved in the political and social affairs of New Bedford.

New Bedford was a renowned safe-haven along the Underground Railroad. The city was appealing to runaway slaves and free blacks because the whaling industry accepted people of all races. The Johnsons were abolitionists who assisted many escaped slaves, including famed civil rights advocate Frederick Douglass. The Johnson home was Douglass' first residence after his escape from slavery in 1838; it is the only one of the Douglass' three New Bedford homes that remains today.

The Johnsons also harbored three black women, per request of their owner, in 1834. Patrick Gibson had asked Nathan Johnson to care for and educate Betsey Gibson (his concubine) and Helen and Jane Gibson (their daughters). When Gibson died unexpectedly, his business associate requested Johnson return the women to Georgia. Suspecting that the man would re-enslave the women, Johnson refused.
Nathan Johnson
Nathan Johnson was a steadfast delegate to the annual convention of free people of color, held in Philadelphia from 1832 to 1835. He was elected the president of the 1847 National Convention of Colored People in Troy, New York.

Nathan Johnson left New Bedford in 1849 to seek fortune in the California Gold Rush. Mary Johnson continued her work as a confectioner in New Bedford. In 1857, she requested permission from the City of New Bedford to move her house back on the lot and erect a front addition. This is the current configuration of the Johnson House.

Mary Johnson mortgaged her property to make these changes and paid the debts before she died in 1871. Her will indicated that Nathan would be allowed to live in the house if he returned to New Bedford within two years. Nathan returned to New Bedford by 1873. He died in New Bedford in 1880. Both are buried in Oak Grove Cemetery in New Bedford.
Mary "Polly" Johnson
As a free African American woman, Mary J. "Polly" Johnson was devoted to assisting those in slavery. The Johnson home at 21 Seventh Street sheltered Frederick Douglass (1838-1839), as well as others seeking freedom.

In the early 19th century, Polly established a confectionary business in her home. The New Bedford community was rich and prosperous due to the lucrative whaling industry. People had money to spend on extravagances, such as entertaining guests, providing the ideal environment for Polly's catering business. By 1835, Polly had established herself as a prominent confectioner. Her skill as a candy and pastry maker helped support her family during the years her husband was purchasing properties on Seventh and Spring Streets.

In the 1840s, several of Nathan's business endeavors failed. He traveled to California during the gold rush in an attempt to reverse his fortunes. While Nathan was away Polly took responsibility for the family home and other properties. She was a strong and independent woman. Polly died in 1871, beloved within the African American community as a steadfast abolitionist, and within the larger community as a successful confectioner.
Last updated: August 22, 2018