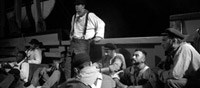 The economy, society, and culture of New Bedford in the 19th century were influenced by the patterns of whaling voyages. Families were separated when men went to sea; women were relied upon to manage shops, farms, and families ashore; and the local population was personally connected to the native people, who lived on the shores of the Pacific, Arctic, and Indian Oceans. The world of the ship was isolated, highly structured, racially integrated, and, by the middle of the century, increasingly populated by both genders, as wives and children joined captains on longer voyages.
Though the sea has traditionally been seen as romantic landscape—and work thereon compelling to Americans—whaling was not a romantic business, and whalemen were not footloose adventurers. In the earliest years of the industry whalemen were from seafaring communities and were brought up to view the ship as their workplace. As New Bedford grew to become the world's largest whaling port, the workforce was increasingly made up of men from farming and laboring backgrounds who sought to escape their fate by going to sea; men whose options on shore were limited because of their race or background; and immigrants who often landed at New Bedford on the very vessels on which they had served as crew. The community found aboard Yankee whaleships was not replicated anywhere else in America in the 19th century. Men of African ancestry and American Indians served side by side with men whose families had originated in Europe. Pay was based on shipboard position, and opportunities for advancement based on merit and experience were greater than any that existed on shore.
By the middle of the 19th century New Bedford whaling vessels did most of their hunting in the Pacific and Arctic Oceans. The length of time necessary to travel such vast distances and the declining number of whales meant that voyages became longer and longer. In 1851 the average length of a voyage was 46 months. Most of the men on shipboard were young and single, but for captains, almost all of whom were married, the separation from wives and children became a great hardship. Eventually, the vessel owners allowed captains to bring their families with them on long voyages; so that by 1853 the Whaleman's Shipping List could report that there was a captain's wife on one of every five whaleships sailing from New England ports.
The women who traveled with their captain-husbands were not, for the most part, extraordinary women. They were ordinary women who found themselves in extraordinary circumstances. Each tried to create a home for her family in the cabin of a ship, surrounded by men with whom she would never have associated on shore. Beyond the walls of the ship, they sought company from the wives of other captains in chance meetings at sea, when they would exchange information, books, and presents during "gams" between ships. On shore at exotic locales they, like the men they accompanied, encountered people, cultural practices, natural phenomena, and animal and plants that most Americans could only read about. In some far-flung ports-of-call, like Lahaina on the island of Maui in the Hawaiian archipelago, and at Fremantle on the southwest coast of Australia, they attempted to recreate their New England world with Protestant churches, missionary activities, and shore communities where women mariners who were pregnant, ill, or yearning for female companionship could live among others like themselves while the ships went into the high latitudes of the Arctic and Antarctic.
Women who stayed home while their husbands went to sea were also thrust into situations unusual for American women of the day. In a letter written in November 1864 to the captain of the Erie, the captain's young bride confessed that she did not think she understood much "about outdoor affairs," though she was then responsible for all the business of the family farm. "I do not know how now," she wrote, "but I think I shall learn, and I try very hard to do as I ought." In fact, her husband and the community depended on her rapid adjustment and self-education in business and agriculture matters. J. Hector St. John de Crevecoeur, a late-18th century French observer of American ways, observed Nantucket whaling captains and their wives: "What would the men do without the agency of faithful mates?" The same question could have been asked of New Bedford in the next century. Women provided the necessary continuity that kept the community functioning as the business of whaling ebbed and flowed.