Volunteer Week

Volunteers In-parks (VIP)
program has grown over the years to reflect the dedication of people throughout the world to our national parks. Since the start of the program in 1970 with a few hundreds. Today, there are over 200,000 VIP helping to preserve and protect our natural, cultural, and historical resources. April 23-29, 2017 is
National Volunteer Week
and it is week that we recognize and thank our volunteers for their dedication to the park for lending their time, talent, voice, and support to causes they care about their community.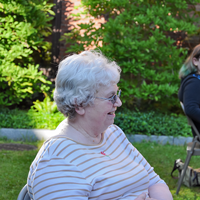 Volunteer Maureen McCarthy
Volunteering is a unique experience and volunteering here at New Bedford Whaling National Historical Park has brought me back to my roots. I now reside in Mattapoisett but was born in New Bedford and after living in other cities and states I am delighted to be able to brag about all the great things we have in the greater New Bedford area. It is a great way to socialize, to get to meet other people from both the New Bedford area who have never been to the Visitors Center, or who haven't been to downtown New Bedford for years. It is very interesting to hear from out of town folks who say they never realized what New Bedford had to offer, and to hear from visitors from Europe about what drew them to the city. The rangers here are pleasant and helpful and the visitors give us a wonderful opportunity to brag about the National Park and all the other attractions we have in the area.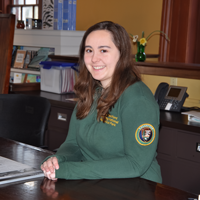 Volunteer Emily Esten
I am a Front Desk Greeter at the park, welcoming new visitors, helping them understand the significance of New Bedford's story, and answering questions about pretty much everything. As an undergraduate student, I spent a lot of time researching the city of New Bedford and the ethnography of whaling. I actually wrote my honors thesis on the New Bedford Port Society's role in reforming the sailors! When I moved back to the area, I decided I wasn't quite finished with the story of New Bedford. Volunteering with New Bedford Whaling National Historical Park gave me the opportunity to continue telling the city's story and sharing it with new audience. I love learning about the National park Service and the hard work of the rangers who run the site! Not only do they have a wealth of knowledge about New Bedford, but they work incredibly hard to improve upon visitor experience and participation. I also love hearing about what other people think about the national parks young kids are always in awe of the sites and stairs, while adults are fascinated by the history in their own "backyards"!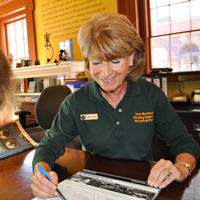 Volunteer Camille Barudin
As a volunteer at New Bedford Whaling National Historical Park, I volunteer on Thursday from 9-12 pm at the Front Desk greeting volunteers and also training new volunteers. I participate in the Children's Scavenger Hunt School Tours and volunteer my time with Special Children's Programs assisting Ruth and Abby (our 1850's Ladies). I always had a curiosity about New Bedford's Whaling History and was so impressed by this vast information and all it has to offer the public that I knew I wanted to become a part of it. It is a rewarding experience to meet people from all over the world and share our historical knowledge. Our staff is friendly and extremely helpful making you feel like you are part of a family. I enjoy meeting new people and making them feel comfortable while listening to their experiences at other National Parks. I like being able to share my knowledge of New Bedford Whaling National Historical Park and always hope to instill a curiosity in our visitors.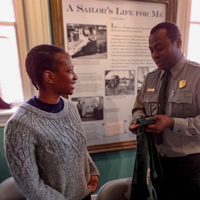 Volunteer Jei Nandy
As a volunteer at the New Bedford Whaling National Historical Park, I have become more connected with the downtown community during my Sunday morning shift, 9-12 noon. It's close to home and the community around it seemed warm and welcoming. Everybody here is very nice and helpful and I have had nothing but good experiences during my time here. I feel a sense of community while there and have grown a genuine love and appreciation for New Bedford, just through the history and stories that I've learned, and continue to learn about while volunteering at the park. I have donated close to 60 hours within the 5 months volunteering at the park.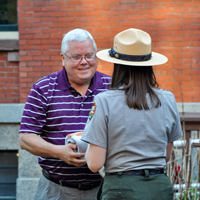 Volunteer Clifford Roderiques
My name is Clifford Roderiques and I am a native of New Bedford. I have been volunteering since 1998, first as a front desk greeter and then, later on start giving walking tours. I gave walking tours for close to ten years before finally, focused on front desk duties. I volunteer on Saturdays 2-5 pm because I care about my community and their stories. It is an opportunity to share my expertise on the history of New Bedford. I love working with other volunteers, meeting, and talking to people from all over the world. It is great to hear how excited the park's visitors are about New Bedford. Did you know that New Bedford was a sanctuary city; it harbored escaped slaves escaping from the Mason-Dixon Line? Frederick Douglass was among these slaves that called New Bedford home? Also, I tell visitors what other things they could do here and donated over 3000 hour during the course of my time here at the park.
Last updated: April 28, 2017