Black History Month 2023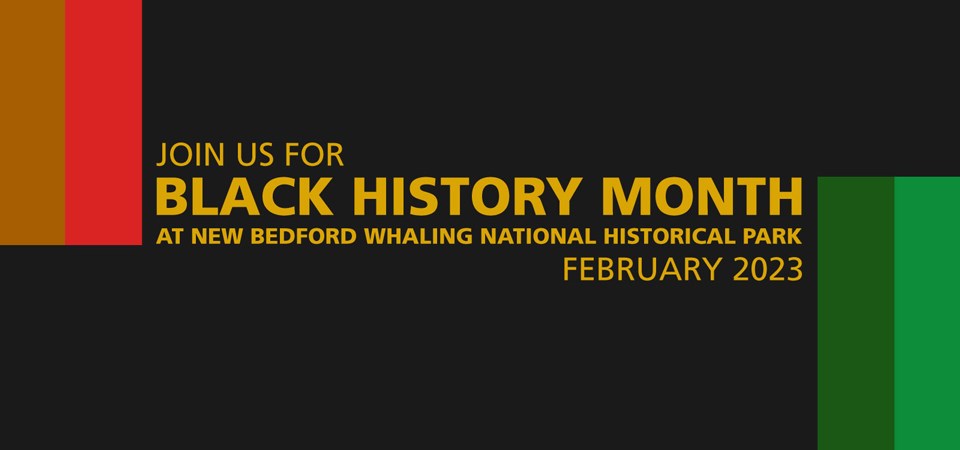 In the tradition of Carter G. Woodson (NPS unit Carter G. Woodson Home National Historic Site (U.S. National Park Service) (nps.gov)), New Bedford Whaling National Historical Park is proud to offer a month of activities in recognition of Black History Month. Learn about New Bedford's Underground Railroad history, explore stories of Black entrepreneurship during the 19th and 21st centuries, and see the movie Harriet in the park theater. We invite you to visit and learn more about this untold history of New Bedford.
Upcoming Events:
02/04/2023 - 1:00 PM
Harriet: An American Legend
Feature film will be played in the visitor center theater.
Event Information

Underground Railroad: New Bedford's Most Powerful Protest
Thursday, February 9th, 2023, at 6:00 PM - 7:00 PM
Virtual event: Zoom

New Bedford was attractive to African Americans for four main reasons. First, whaling, the third most profitable industry in Massachusetts, was welcoming to Black participants. Second, the city was an active part of an extensive coastal trading system that led to many runaways taking advantage of this commercial network. Frederick Douglass is an example of such escapees. He took both land and water routes to New Bedford. Third, New Bedford's liberal spirit led by many Quakers made it a staunch abolitionist city. Finally, the city was home to a large population of Black people, both free Black people and the formerly enslaved. In 1850, Black people were 6.3 percent of the city's population, a greater proportion than prevailed in Boston, New York City, and Philadelphia.

Join Ranger Rufai as he shares six of New Bedford's agitators from the most powerful protest in its history -- abolition. Local leaders include Nathan and Mary "Polly" Johnson, William and Lucinda Clark Bush, and William Still, connected to New Bedford through his work in Philadelphia, the famed Henry 'Box' Brown, Captain Daniel Drayton of the Schooner Pearl, and Andrew Robeson, Quaker Abolitionist.
Register for this virtual talk zoom meeting here

The Life and Times of Frederick Douglass in New Bedford:
A conversation between Abby Almy, one of New Bedford's
1850s Ladies and Frederick Douglass.
Saturday, February 18th, 2023 at 2:00 PM - 3:15 PM
Virtual event: Zoom

Frederick Douglass called New Bedford the beginning of his new existence – his life in freedom. While living in New Bedford he acquired the name Douglass, moved on to his own homes on Ray and Elm Streets where he and his wife Anna Murray welcomed three of their children.

Please join us as we listen in on a recorded conversation between Frederick Douglass (Nathan Richardson) and his New Bedford neighbor Abby Almy (Judy Roderiques) about Douglass' life in New Bedford. Q and A to be followed.
Nathan Richardson is a poet, author, and spoken word performer who captures completely the physical and spiritual essence of the great writer, orator, and abolitionist Frederick Douglass. Judy Roderiques is a Nationally Recognized National Park Service Volunteer who has embodied Abby Almy in New Bedford for 13 years.

Register for this online talk ZOOM meeting here

Black Entrepreneurship Then and Now
Saturday, February 25th, 2023, at 2:00 PM - 3:15 PM
In-Person Event
Corson Maritime Theater, 33 William St, New Bedford, MA 02740

Join us as we highlight 21st century Black Entrepreneurship in New Bedford

THEN: Black entrepreneurship in the America's can be traced to the 1600s when Africans in America seized every opportunity to develop enterprises and participate as businesspeople in the commercial life of the British Colonies. Despite enslavement and institutional racism, black entrepreneurs and enterprises persisted in their efforts resulting in a distinguished establishment of a small group of entrepreneurs right here in New Bedford which included Paul Cuffe, Mary "Polly" Johnson, and Lewis Temple.
NOW: Today, E For All SouthCoast works with entrepreneurs. Join us as we highlight 21st century Black Entrepreneurship in New Bedford with

Samia Walker, Executive Director, E For All
Lonelle Walker, Executive Director, Doers Lab NB
Jaden Reyes, Brown Suga Stationery.
Last updated: January 8, 2023