Rocky Springs Trail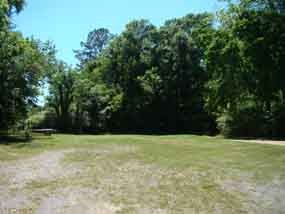 Highway 27 or Utica-Regantown Road Trailhead (Milepost 59)
The Highway 27 Trailhead is an excellent staging area for horseback riders. There is ample parking for trailers as riders start the four and one half mile one-way ride to the Rocky Springs Campground. This is an out and back trail (nine miles roundtrip). Horseback riders will be riding on the road shoulder for part of this trail. When exiting the Parkway, follow the sign to the Natchez Trace National Scenic Trail Parking.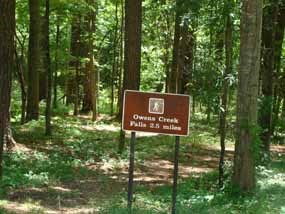 Rocky Springs Campground (Milepost 54.8)
This trailhead is accessible to hikers only. Hikers can take the trail from the campground, and continue north eight miles to the Highway 27 trailhead, or access the trail from the restrooms near the picnic area, and continue south two and one half miles to the Owens Creek Waterfall. The southern portion of trail is open to hikers only, and takes you over rocky outcroppings and on steep ridges.
Owens Creek Trailhead (Milepost 52.4)
Due to safety concerns, the Owens Creek Trailhead is closed. Erosion is causing the trail to break away. For your safety, please observe posted closures.
Last updated: April 14, 2015