Leipers Fork Trail Map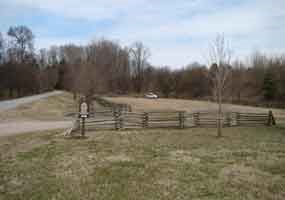 Highway 50 or Shady Grove Trailhead (Milepost 408)
The Highway 50 Trailhead is a great place for hikers and horseback riders alike to start their journey on the Highland Rim Section of the National Scenic Trail. There is ample parking for horse trailers, two hitching posts, and water available for horses. Visitors will need to get drinking water at the Gordon House, milepost 407.7.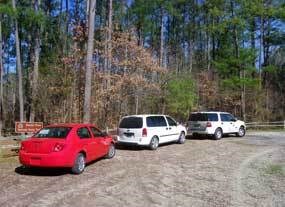 Highway 7 or Fly Trailhead (Milepost 416)
The Highway 7 Trailhead provides a small parking area for one or two horse trailers. If space is available, this will be a great starting point for just a few people. If there are numerous people riding together, the Highway 50 trailhead may be a better option. There is no water available at this trailhead. One hitching post is available here.
From the Highway 7 exit, turn left and travel under the Parkway. Take your first left, and the trailhead will be on your left.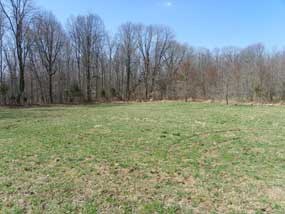 Carter Road Parking Area (Off the Natchez Trace Parkway at milepost 422.9)
The Carter Road Parking Area provides a large grassy area for horse trailers, but it can become very muddy after rainfall. A hitching post and picnic table are available at this trailhead.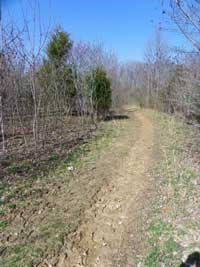 Tennessee Valley Divide (Milepost 423.9)
The Tennessee Valley Divide Trailhead is open to hikers only. As the scenic trail passes the parking lot, riders are rewarded with views of the Parkway, including vibrant blooms in the spring, and spectacular colors in the fall. Hikers may find the 1.4 miles each way to Burns Branch much less intimidating than the 3.7 miles to Garrison Creek, or south 15.9 miles to the Highway 50/Shady Grove Trailhead.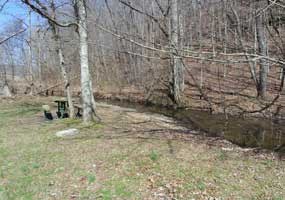 Burns Branch (Milepost 425.4)
The Burns Branch Trailhead is available for hikers, but is not a staging area for horseback riders. There is a hitching post and picnic tables available at Burns Branch.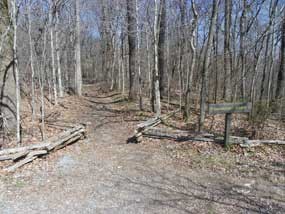 Old Trace (Milepost 426.3)
The Old Trace trailhead is available to hikers, and provides an opportunity for visitors to walk along the historic travel route. A hitching post and picnic tables are available at this trailhead as well.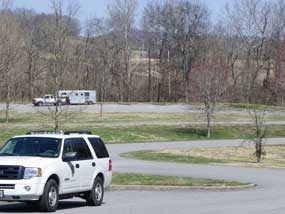 Garrison Creek Trailhead (Milepost 427.6)
The Garrison Creek Trailhead is popular for both horseback riders and hikers alike. There is a designated parking area for horse trailers on the North end of the parking lot. Picnic tables and hitching posts are found near the Creek. Visitors will find drinking water near the restrooms. Hikers can start their walk from the trailhead near the restrooms, or at the trailhead near the picnic tables. As the northern terminus for the Natchez Trace National Scenic Trail, it is a great location to start a hike or trail ride.
Last updated: April 14, 2015