Tennessee
This portion of the
Parkway map
will help you plan your visit in Tennessee.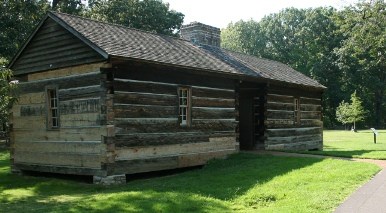 When you visit the Meriwether Lewis Monument at milepost 385.9, you can learn more about the life of one of America's great explorers. Inside a cabin constructed in the style of the period, you will find interpretive displays that tell about the life of Lewis. In addition to the monument and cabin, the Meriwether Lewis area has a campground, picnic area, and hiking trails. The campsites are available on a first-come, first-served basis.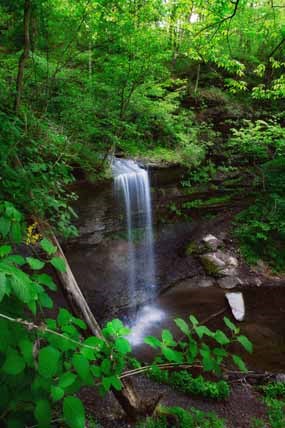 If you are interested in waterfalls, you will want to take a short walk on the Fall Hollow Trail at milepost 391.9. A five minute walk will take you to a viewing platform to see a small waterfall. Those interested in continuing on will be rewarded with numerous small cascades.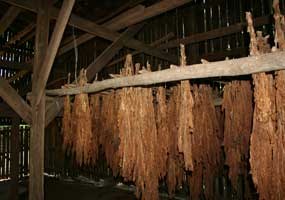 The Tobacco Farm and Old Trace Drive at milepost 401.4 is a great place to get off the main road and get on the Old Trace. The Tobacco Farm provides information about growing and drying tobacco. The two mile drive on the Old Trace has spectacular views of the forest, and is one of two places you can be on the "Old Trace" without walking. This one-way drive allows visitors to travel south to north, and is not suitable for RV's.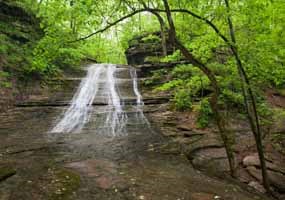 The short but steep trail at milepost 404.7 takes visitors to views of Jackson Falls, making it one of the most popular walks along the parkway. After dropping down 900 feet in elevation on a paved trail, you will find yourself in a small gorge. Your return trip will be a bit more strenuous, but well worth the effort. There are picnic tables at the trailhead, as well as a short trail to Baker Bluff Overlook.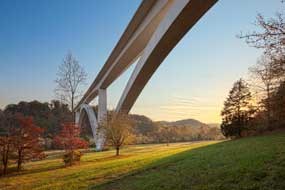 Birdsong Hollow at milepost 438 provides views of the double-arched bridge which rises 155 feet above the valley below. The bridge received the Presidential Award for Design Excellence in 1995.
Last updated: July 29, 2020