Jackson to Tupelo
This portion of the
Parkway map
will help you plan your visit from Jackson to Tupelo.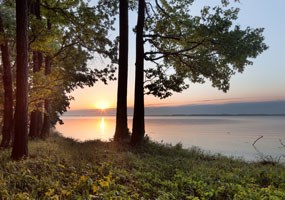 The Ross Barnett Reservoir parallels the parkway for about eight miles, and provides spectacular scenery from the roadway. Those interested in spending more time in the area may enjoy starting at walk from the West Florida Boundary at milepost 107.9, or taking in the views at the Reservoir Overlook at milepost 105.6.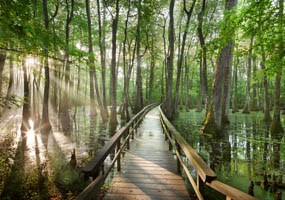 Cypress Swamp, at milepost 122.0, is a self guiding trail through a water tupelo/bald cypress swamp. A lucky visitor may have a chance to see an alligator on this one half mile trail with boardwalks.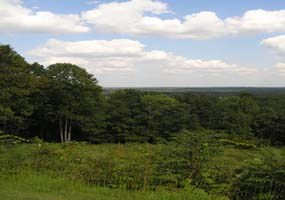 The Little Mountain Overlook at Jeff Busby can be reached by a short drive to one of Mississippi's highest points along the Parkway. While the gas station at Jeff Busby has recently closed, the picnic area, campground, and overlook are still available.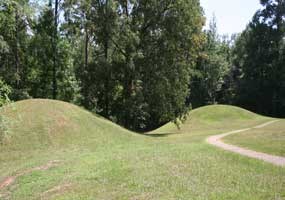 Bynum Mounds is a Middle Woodland period burial mound site located at milepost 232.4. This archeological site consisted of six mounds, five of which were excavated in the 1940's. Two of the largest mounds have been restored, and you can see them today. Interpretive exhibits tell the story of early residents of the Natchez Trace.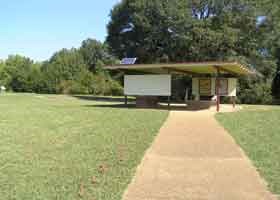 The Chickasaw Village Site is an archeological site at milepost 261.8 that represents the village that once occupied the area. While there are no structures standing today, there is an outline of a Chickasaw winter home, summer home, and fort. A short nature trail gives more information on native uses of plants in the area. This site also allows access to the Natchez Trace National Scenic Trail for those interested in longer walks.
Last updated: August 26, 2020