Bicycle Regulations and Safety Guidelines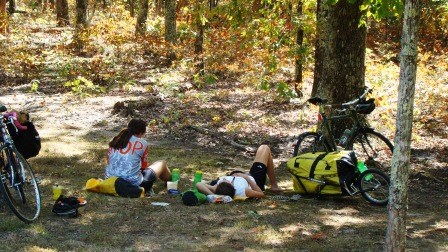 Additional information on bicycling regulations is available below.
The Natchez Trace Parkway welcomes millions of visitors each year. As a designated bicycling route, thousands of bicyclists travel the Parkway. Bicyclists and motorists have a responsibility to share the road.
Know your physical limits. Summers along the Parkway are hot and humid. Be prepared to adjust your route and carry plenty of water.
Follow the same rules of the road as motorists. Bicyclists have the same rights and responsibilities as drivers.
Ride single-file and on the right (with traffic).
While bicyclists may use the entire lane when necessary, the Parkway encourages bicyclists to ride as far to the right as is practicable unless

it is unsafe to do so,
the bicyclist is passing another bicyclist or pedestrian or
the bicyclist is preparing for a left-hand turn.

Use hand signals to let motorists know what you will be doing next.
Avoid the Tupelo, MS, and Jackson, MS, areas between the hours of 7:00 am - 9:00 am and 4:00 pm - 6:00 pm, due to an increased volume of vehicle traffic.
Plan to be off of the Parkway between sundown and sunup. Use lights and reflectors in low-light conditions.

Use a white light or reflector that is visible from a distance of at least 500 feet to the front.
Use a red light or reflector that is visible from at least 200 feet to the rear.
In addition to low light conditions, bicyclists will frequently be riding in mixed sun and shade. Using lights and reflectors in these conditions will help bicyclists be more visible.

Wear brightly-colored, high-visibility clothing and a properly fitting helmet.
Carry identification and emergency medical information.
Treat pedestrians with the same courtesy you would expect from motorists.
Report all incidents involving bicyclists or pedestrians to the Natchez Trace Parkway at (800) 305-7417. In emergency situations, call 911.
Last updated: August 29, 2020