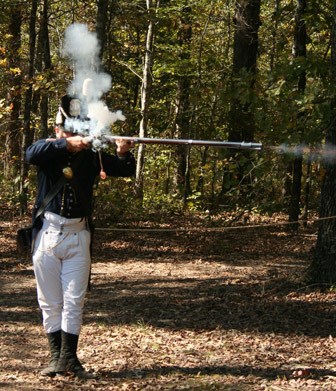 Although US troops had improved the Natchez Trace since 1801, it wasn't until the War of 1812 that the military capitalized on the efforts. The popular path through Choctaw and Chickasaw lands became a vital thoroughfare when it was believed British ships threatened the Gulf Coast.
Having traveled the Trace repeatedly on other business, General Andrew Jackson relied on the Trace several times for the transportation of his troops. His cavalry traveled to Washington, Mississippi (just north of Natchez) on it in 1813, and when the troops were released without participating in battle, the entire 2nd Division Tennessee Regiment slogged their way back on the Trace. Though the road was the best choice at the time, the troops still had to contend with knee-deep mud, oxen dying from the heat, an occasional rattlesnake, and as "heavy [a] shower of hail & rain that ever fell upon poor Soldiers in the world," according to soldier A.J. Edmundson. It was during this trip that Andrew Jackson earned his nickname "Old Hickory."
From mid-1813 to mid-1814, Jackson and his troops left to fight the Creek War in what is now Alabama. Jackson took one of the Natchez Trace's newest residents, John Gordon, with him. Captain Gordon became leader of one of Jackson's companies of "spies," or scouts. Gordon left his family and home at the intersection of the Natchez Trace and the Duck River behind, and became a Tennessee hero of the Creek War.