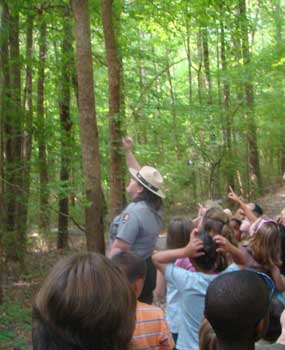 Formal educational programs are offered at the Parkway Visitor Center, near Tupelo, Mississippi throughout the year, based on ranger availability. A field trip to the Natchez Trace Parkway will provide an opportunity for your students to be immersed in Parkway resources, and have experiences that can not be replicated in the classroom. Download our Education Program flyer to see what programs are offered, or visit our curriculum page to download curriculum materials and see more details about field trips to the Parkway. All field trips are free of charge, and are scheduled based on ranger availability. Please have alternate days ready when scheduling your trip. Bus parking and restrooms are available at the Parkway Visitor Center.
If a field trip is not possible for your class, a ranger may be available to visit your classroom. Popular classroom activities include a "Skins and Skulls" animal classification program from our second grade curriculum, or a "Meet a Ranger" program to learn more about what a Park Ranger does.
To schedule a field trip to the Parkway Visitor Center at milepost 266, or to arrange for a Ranger to visit your classroom, please call 662-680-4027, and talk with Amy Genke or e-mail us here.