Lesson Plan
What's Happenin' on the Trace?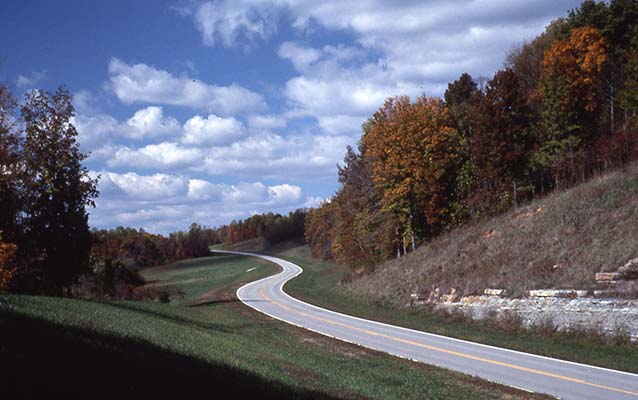 Grade Level:

Sixth Grade-Twelfth Grade

Subject:

African American History and Culture, Agriculture, American Indian History and Culture, Anthropology, Aquatic Studies, Archaeology, Biodiversity, Biology: Animals, Biology: Plants, Botany, Civic Engagement, Civil Rights Movement, Civil War, Climate Change, Community, Conservation, Constitutional Amendments, Constitutional Law, Earth Science, Ecological Engineering, Ecology, Education, Environment, Environmental Law, Family Life, Fire Ecology, Geography, Geology, Government, Health, Historic Preservation, History, Hydrology, Immigration, International Relations, Journalism, Language Arts, Media Studies, Planning/Development, Recreation / Leisure / Tourism, Recreation Ecology, Science and Technology, Social Studies, War of 1812, Westward Expansion, Wildlife Biology, Wildlife Management, Women's History, Writing

Duration:

At least 1 class period for discussion, additional time depending on report requirements

Group Size:

Up to 36

Setting:

classroom

National/State Standards:

Variable depending on assignment
Social Studies:
6th: 2,3
8th 4,5,6,7,8
MS Studies:
1,2,3,4,5
US Hist 1877 to Present:
2,4,5,6
US Government:
2,4,5,6
Economics:
3,4,5,6
Geography:
5
Local Resource Studies:
1,2,3,4,5


Keywords:

current events, journalism, communication, communications, service learning, stewardship, community involvement
Overview
Students will investigate current events associated with the Natchez Trace Parkway. They will write a journalism type report and/or develop a visual presentation. Subject areas may include: community events or issues, plants, animals, invasive species, boundary issues, social issues and environmental issues. The students should pretend they are reporters. They will develop a written or visual project, depending on the teacher assignment.
Objective(s)
Enduring Understanding: Investigation into current events creates an awareness of our world's past and present.
Essential Question: How can your knowing about current issues help the Natchez Trace Parkway?
The students will:
1) become familiar with issues affecting the Natchez Trace Parkway
2) examine their role as citizens in recognizing and solving those issues
3 ) examine the impact of humans on the environment
4) develop communication skills
5) describe the impact of technology on development of the Western Hemisphere and its ecology
Background
The students should already be aware that the Natchez Trace Parkway is part of the National Park system and therefore management is part of the federal government. (See lesson plan "So What is the Natchez Trace?")
There are many issues that affect a federally protected and maintained 444 mile-long roadway the runs through three states and several metropolitan areas.
It is impossible to separate issues that affect only cultural or natural concerns as our culture affects the natural areas of the Natchez Trace Parkway.
The Natchez Trace Parkway was established to commemorate the historical significance of the old Natchez Trace. The parkway right-of-way varies from 400 to 100 feet with bulges at irregular intervals. Commercial vehicle traffic is prohibited.
Through National Park Service internal policies and guidelines and the federal historic preservation laws and regulations, the Park Service is mandated to provide for the preservation, restoration, protection, interpretation, use, study, and management of significant cultural resources within the Parkway boundaries.
One purpose of natural and cultural resource management is to protect rare, threatened or endangered resources.  Inseparable to this mission is the support of visitor use programs. Another objective is to maintain scenic quality along the parkway.
Materials
1.) Guidelines
2.) Access to public records and newspapers.
3.) Natchez Trace Parkway website www.nps.gov/natr/index.htm for news releases
4.) National Park Service's service-wide issues website at https://www.nature.nps.gov/criticalissues
Procedure
Student Task: Review the purpose of the National Park Service and the Natchez Trace Parkway. Review the physical qualities of the parkway. Have the students brainstorm what they think may be some issues that would affect the Natchez Trace Parkway. Write the issues on the board or overhead as the students develop the ideas. Discuss which issues would have definite answers or answers that are opinions. Discuss which issues would be easy or hard to research.
Student Instructions:
1.) Investigate and write a "newspaper article" report or make a display board about one of the issues discussed in class.
2.) Be sure to answer the "who, what, where, when, why and how" questions. The tricky question will be the WHY question.
3.) If your presentation is persuasive you will need to develop an opinion about your subject.
4.) If your presentation is descriptive, then you will need to know a lot of facts.
Option: The students could write a creative fictional story using facts for the base of the story.
Possible topics (options are limitless):
Biology:
Endangered species or threatened species
• Should we worry?

• Should they be reintroduced?
Invasive plant or animal species
Privet
Kudzu
Wisteria
Cogon grass
Nutria
Feral hogs, cats and dogs
Spotted salamander migration issues
Beaver management concerns
Fire as a resources management tool
General Resource Issues
Effects of climate change or global warming
Archeological protection
American Indian inclusion
Care of American Indian mounds
Boundary issues
Special use of the Natchez Trace by individuals or groups
How much influence should states have on the federal land?
Federal firearms laws Should state or federal laws be enforced?
Allowed modes of transportation
Social Studies:
Privately owned portions of the old Trace and their care
How current construction projects affect the Trace
Construction by neighbors
Agricultural lease issues
Viewshed protection
Cell towers
Buildings
Private land
Utility right-of-way
Road right-of-way
Visitor Use or Misuse of the Trace
Drugs 
Speeding
Geocaching
Timber theft
Hunting
Picking flowers
Hiking
Pets or horses 
Bicycling
Motorcycling
Camping

 
Teacher Closure: Conduct a class discussion as to whether or not students changed their opinions about certain issues. At the teacher's discretion, have the students give oral reports.
Assessment
Participation in the activity and quality of the report.
Park Connections
Discusses issues regarding the Natchez Trace Parkway.
Extensions
1.) Associate issues with the Natchez Trace with other federal, state or local areas in the news.
2.) Invite a lawyer familiar with federal law to visit your classroom and have the lawyer focus on federal vs. state law.
 3.) Invite a park ranger to your classroom to speak about one of the issues. 
4.) Visit the Natchez Trace and observe issues first hand. Invite someone from the Natchez Trace Parkway to come speak about one of the issues.
Additional Resources
Resources:
Natchez Trace Parkway Headquarters, 2680 Natchez Trace Parkway, Tupelo, MS 38804, 662-680-4027
National Park Service website www.nps.gov
National Park Service Policies https://home.nps.gov/applications/npspolicy/index.cfm
National Park Service Issues https://science.nature.nps.gov/
Code of Federal Regulation http://www.gpoaccess.gov/cfr/
Selected laws https://www.nature.nps.gov/RefDesk/index.cfm#Laws%20and%20Related%20Material
Selected Executive orders https://www.nature.nps.gov/RefDesk/index.cfm#Executive%20Orders
NPS policies and guidelines https://www.nature.nps.gov/policiesguidance/index.cfm
Natchez Trace Parkway Environmental Assessments https://parkplanning.nps.gov/search.cfm
Journalism Links: