Traveling Trunk
Stream Study Trunk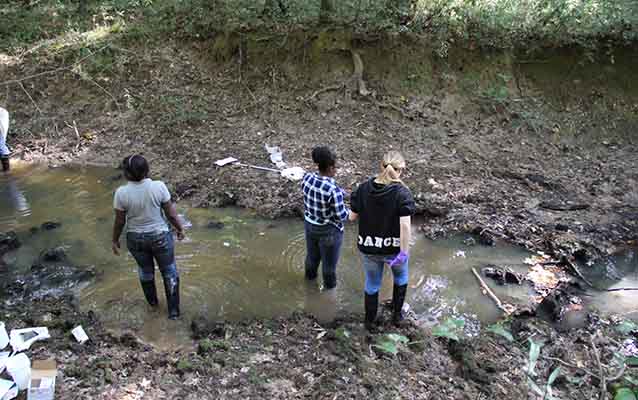 This kit is located in Tupelo, MS.
Boots and gloves are available upon request. 
Stream Study Kit includes:
Items for both elementary and high school
Large Sampling Nets (6)
1 1/2 inch magnifier bug boxes (12)
LaMotte World Water Monitoring day kits (including all items necessary to sample and test, turbidity, pH, and dissolved oxygen) (6)
MacroMania invertebrate card game study (1)
Insect Life Cycle & Habitat Flash cards set and manual (1)
Dragon fly metamorphosis acrylic block display (1)
Aquatic insect mount display (1)
Lesson plan folder (1)
Plastic fish for animal identification exercise (6)
Additional items for high school classes
Dissolved oxygen meter (1)
pH meter (1)
Magnetic stirrer (1)
Sampling bottles (30)
Solutions kit for use with samples and meters (1)
Lesson plan folder (1)
Borrowing Instructions
Teachers may borrow kits for about 2 weeks. Please schedule Traveling Trunk Kits at least 2 weeks in advance. Teachers are responsible for picking up and returning trunk kits.
Call 662-680-4015 or 662-680-4027
Traveling Trunk Kits are not stored at all locations. It may be possible to have kits shuttled to the pickup location of your choice. However, please allow up to 3 week additional time for shuttling. Individual parts of some kits may be borrowed.
Traveling Trunk Kits may be picked up at the Natchez Trace Parkway Visitor Centers at:
Mount Locust: milepost 15.5, near Natchez, MS
Parkway Information Cabin: milepost 102.4, near Ridgeland, MS
Parkway Visitor Center: milepost 266, near Tupelo, MS
Meriwether Lewis Campground: No kits are stored at this location, but it may be possible to arrange for week-end pickup. Call 662-680-4015 or 662-680-4027 for more information
Details
Subject:

Aquatic Studies, Biodiversity, Biology: Animals, Community, Ecology, Education, Hydrology, Recreation / Leisure / Tourism, Recreation Ecology, Service Learning, Wildlife Biology, Wildlife Management

National/State Standards:

Service learning, ecology, environmental studies, environment

Keywords:

service learning, ecology, environmental studies, environment, stream study, travel trunk, traveling trunk, travel kit, watershed, water, watersheds, streambed, streams, aquatic life, aquatic resources, water quality, water monitoring, stream monitoring

type:

Traveling Trunk
Last updated: January 10, 2018