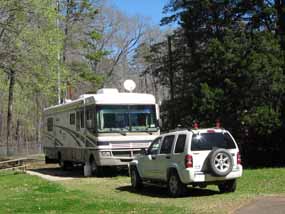 Mount Locust, milepost 15.5
Volunteers at the Mount Locust Site assist with interpretive operations. You will answer routine questions, give directions, respond to visitor requests on the phone and in person. Some of your time may be spent giving tours of the historic Mount Locust Inn, or operating the cash register at the Eastern National Bookstore. If interested, you can develop your own programs, or present pre-established programs to the general public or visiting schools. Required time commitment for an RV site with full hookups: One person volunteers at least 32 hours per week, two people volunteer at least 24 hours each per week. A volunteer uniform shirt and hat will be provided.
Volunteer positions are now available at the Mount Locust Site for the months of June, July, August, 2015.
The Volunteer RV site at Mount Locust has full water and sewer hook-ups, and 30/50 amp electrical connections. There is a washer and dryer on site for your use, and you are 15.5 miles away from Natchez, Mississippi, which has shopping, restaurants, and medical facilities.
If you are interested in learning more about volunteer opportunities at Mount Locust, contact Amy Genke at 601-856-7321.