Date & Time

10/11/2017

Fee Information

Free!

Contact Us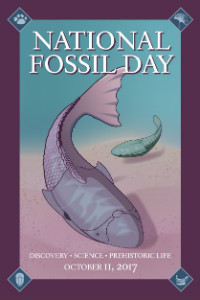 Join in fossil fun at a special national celebration on the National Mall outside of the Smithsonian National Museum of Natural History in honor of National Fossil Day. All ages and school groups are welcome to participate in hands-on activities led paleontologists and geologists.
Partners and activities include:
National Park Service

- Be sworn in as a

Junior Paleontologist

and receive your official Junior Paleontologist badge by completing our Junior Paleontologist workbook. Learn about fossils in our national parks across the country.

Smithsonian National Museum of Natural History

- Sift through Miocene marine sediments in search of shark teeth. Then explore inside the museum, including The Last American Dinosaur exhibit and Q?rius lab, where volunteers and docents will lead family-friendly paleontology activities.

American Geosciences Institute

- Travel through time or to famous fossil sites in an interactive photo booth and take pictures with fossils and prehistoric creatures.

Maryland Dinosaur Park

- Learn about the fossils of dinosaurs and other creatures found just outside of Washington DC, including Maryland's state dinosaur: the giant Astrodon johnstoni!

Calvert Marine Museum

- See amazing shark teeth and other fossils collected from the Chesapeake Bay Region.

Bureau of Land Management and U.S. Forestry Service

- Discover fossils in our federal lands and learn how they are protected and studied for future generations.

George Washington University

: Meet local paleontologists from the university as they share their research and discoveries on new dinosaur and crocodile species from China.

Society of Vertebrate Paleontology

- Learn about this professional network of paleontologist and its commitment to the research at federal and state lands and the protection of public fossil resources.