March For Kids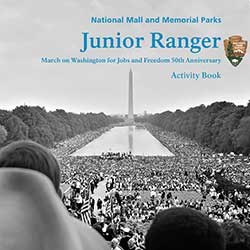 Children attending events commemorating the 50th Anniversary of the March on Washington, and those around the world who cannot make it in person, can complete a Junior Ranger Activity Book available at various sites in the park or online to earn a Junior Ranger badge.
Be a part of this special anniversary at National Mall and Memorial Parks. 50 years ago, people gathered from all over the country to attend the March on Washington for Jobs and Freedom. It was a chance for people of different backgrounds to come together in the nation's capital and let lawmakers know it was time for a change. About 250,000 people were at the National Mall that hot August 28, 1963, listening to speakers and musicians share their words and songs. It was remembered as a peaceful day, when people gathered to share in the dream of making conditions better for all Americans.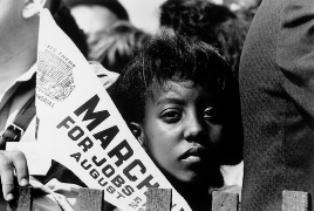 People of all ages attended the March on Washington for Jobs and Freedom. What do you think this girl was thinking about as she stood on the National Mall that day?
Fifty years later, this woman shared her memories of the March on Washington. She came to visit family in the city from her home in Detroit and was thrilled to be a part of this special day. She remembered especially the peacefulness of the event, even with all those people, and particularly hearing the speech by Dr. Martin Luther King, Jr.
Last updated: April 26, 2018