Old Post Office Tower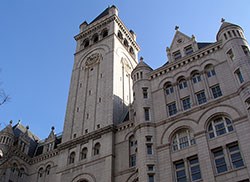 OLD POST OFFICE IS CURRENTLY CLOSED.
The National Park Service provides interpretive programming within the Old Post Office Tower under an agreement with the building's owner, the General Services Administration.
Hours of Operation: 9 am - 5 pm daily (l
ast entry is at 4:30 pm
), except Thanksgiving and Christmas.
For more information on the building click the link to the
GSA Old Post Office Page
Last updated: November 15, 2021