This July Fourth, as our nation celebrates the 236th anniversary of the Declaration of Independence, we should reflect on the 56 signers of this foundational decree.  The Declaration of Independence was the Continental Congress's "line in the sand," their "crossing the Rubicon," and their "point of no return" that, in turn, influenced the destiny of the people they represented. If it were a poker game, the American colonists were "all in."  Not only were the signers putting their lives and futures on the line, but they were gambling with those of the 2.5 million colonists. Declaring open rebellion against the most powerful empire on earth, these men signed their "John Hancocks" to the Declaration of Independence. One of the signers of this document, Benjamin Franklin stated in earnest, "We must all hang together or, assuredly we shall all hang separately."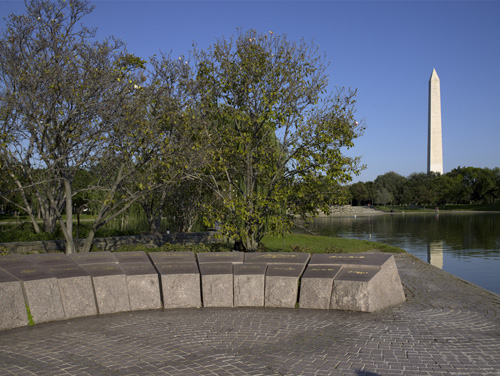 Since the days of the signing, through blood, sweat, tears, twists, turns, courage, fortitude, wars, marches, overturning  injustices, speaking up, standing up, and voting, the United States of America has gained and expanded the meaning of "All men are created equal" found in the Declaration of Independence.
As you walk through Constitution Gardens, walk across the footbridge to Signers Island.  The stones of the Memorial to the 56 Signers of the Declaration of Independence could have been tombstones had events turned out differently. Celebrate these men of courage and vision at our nation's founding by paying homage to these 56 American heroes!