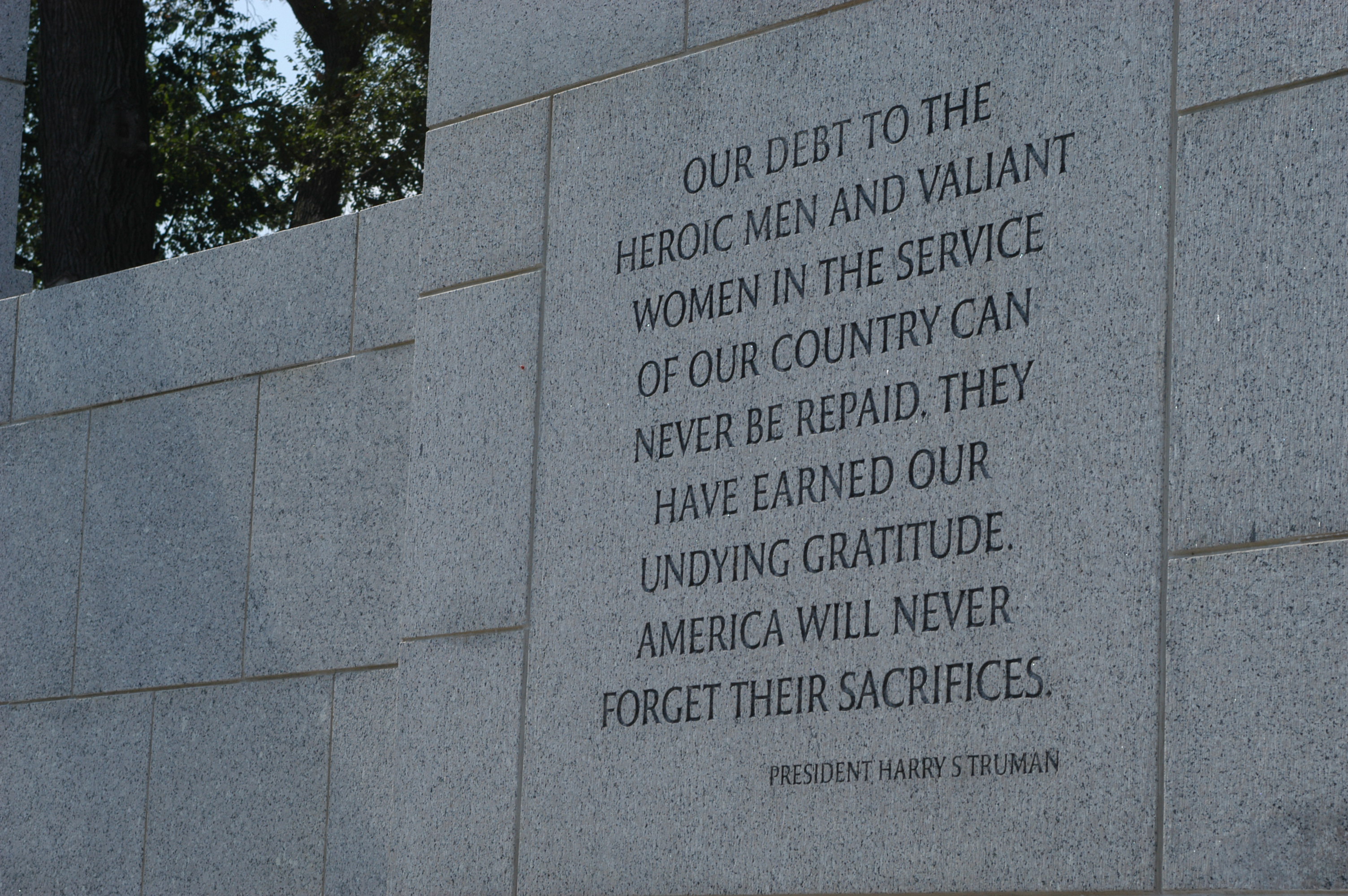 "Our debt to the heroic men and valiant women in the service of our country can never be repaid. They have earned our undying gratitude. America will never forget their sacrifices."
President Harry S Truman, quoted in the World War II Memorial
World War II ended both the Great Depression and the New Deal as government spending shifted from social programs to everything war-related and the country went from double-digit unemployment to a labor shortage. As the war ended, more than 15 million veterans returned home, and most of them wanted to get out of the armed services as soon as possible. With war plants shutting down and laying off workers and millions of veterans looking for jobs, would depression return?
Roosevelt began to think about this problem as early as 1942, appointing boards to study demobilization. In one of his famous fireside chats, on July 28, 1943, he called on Congress to provide educational assistance, unemployment insurance, and other benefits to ease the veterans back into the civilian economy so they would not end up "on the breadline or on a corner selling apples."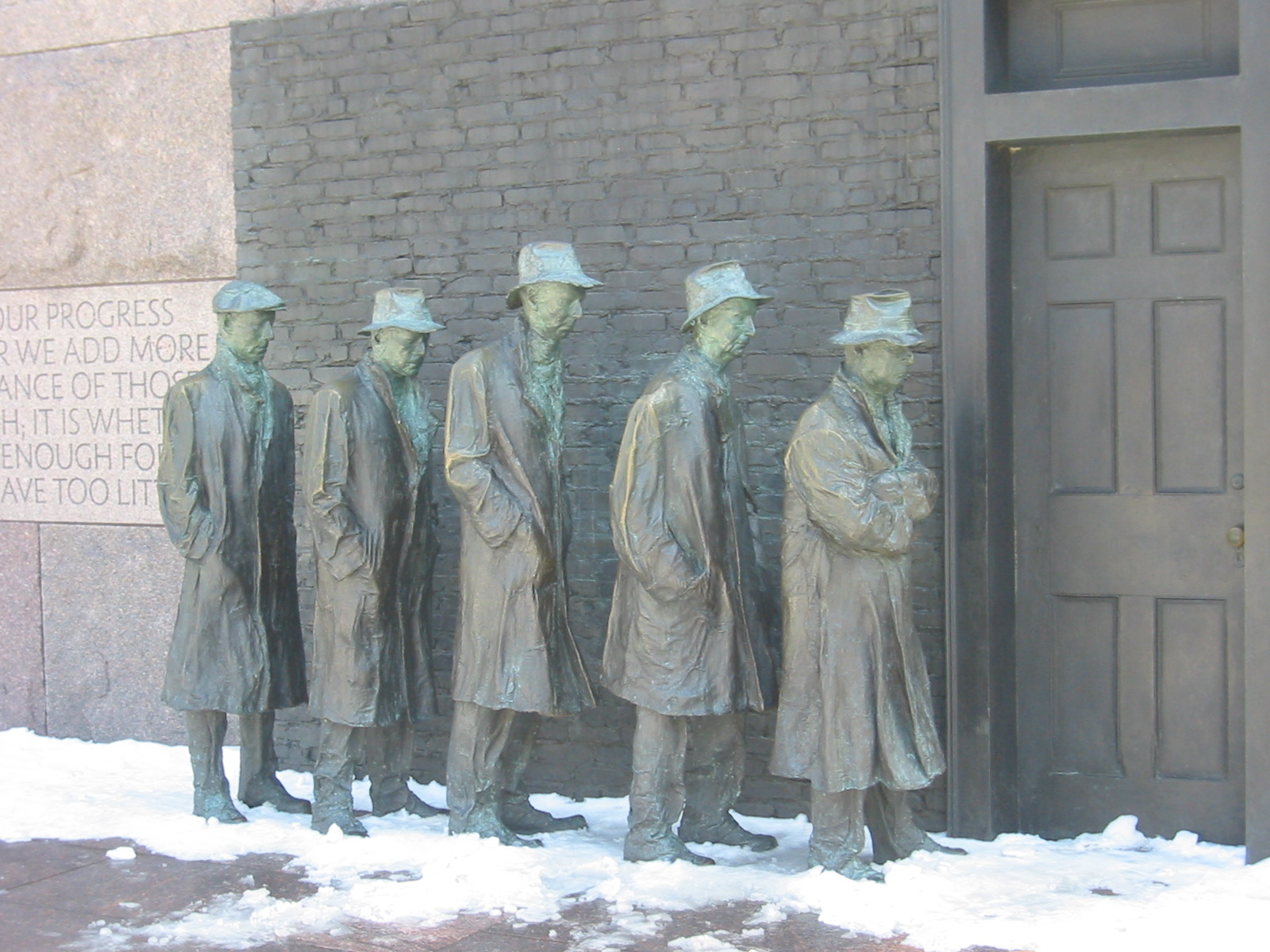 Breadline sculpture at the Franklin Delano Roosevelt Memorial
The American Legion, the nation's largest veterans' organization, agreed that the President's proposal was the least a grateful nation could do for those who had risked so much defending it. The majority of the American Legion's one million members were World War I veterans, who had received a lump-sum "mustering out" pay, preference in hiring for federal jobs, and an unpopular deferred bonus for their service. The American Legion lobbied vigorously for generous benefits for those serving in World War II, determined to see that World War II veterans would get better benefits than World War I veterans.
On June 22, 1944, Roosevelt signed the Serviceman's Readjustment Act of 1944, which would be forever known as "The G.I. Bill of Rights." The law provided many popular benefits. The new law provided for a veterans' employment service to provide counseling and assist veterans with job searches and unemployment pay for up to one year. The federal government would pay veterans' tuition up to a maximum of $500 per year, plus a monthly living allowance to enable them to study full time. The government would also guarantee a percentage of the value of loans to help veterans buy homes or farms. According to the Department of Veterans Affairs, the Veterans Administration guaranteed approximately 2.4 million home loans from 1944 to 1952, and 7.8 million World War II veterans used G.I. Bill education benefits between 1944 and 1956.
Robert Prophater was one of the many veterans that utilized the G.I. Bill's education benefits. An Ohio farm boy, Prophater was drafted into the Army after high school. Aptitude tests indicated he could be a great surgeon, so the Army set out to make him one. He was assigned to the Army Specialized Training Program where he would study medicine at a university, eight hours per day, six days per week, under military discipline. It soon became apparent that the war would end long before Prophater could become a physician. He was sent to Fort Jackson, South Carolina to serve as a medic. The seed had been planted, however. After the war, Prophater used his veterans' benefits to go to medical school and became a general practitioner. Eventually he settled in Bay City, Michigan.
The G.I. Bill is usually associated with veterans going to college, but the vast majority took technical, secretarial, or other short course training. Robert Witkovsky, an army veteran from Tuscola County, Michigan, was newly married and unemployed after the war. He and his wife, Pauline, moved to Bay City, Michigan, where he enrolled in the Northeastern School of Commerce. The living allowance paid for rent and groceries until Witkovsky completed training as a bookkeeper and got a job with a local heavy equipment manufacturer, Industrial Brownhoist. His new job, combined with a veterans' loan, enabled them to buy a home. Now widowed, he still lives in that same house in 2012.
Witkovsky's twin sister, Roberta, followed him to Northeastern. There, she took secretarial courses and met navy veteran Jack Rappel, from Standish, Michigan, studying on the G.I. Bill. Jack and Roberta married in March, 1948. He found work as a bookkeeper and she as a secretary. Jack Rappel was called back into the navy after the Korean War began. When he came home, he found a clerical job with the Dow Chemical Company. Stable employment with a major corporation allowed them to get a Veterans Administration loan and purchase a home in 1952. Their new home was one of four newly-built houses in the 500 block of Blend Street in Bay City. All four homes were bought by World War II veterans. The Rappels lived there until 1989.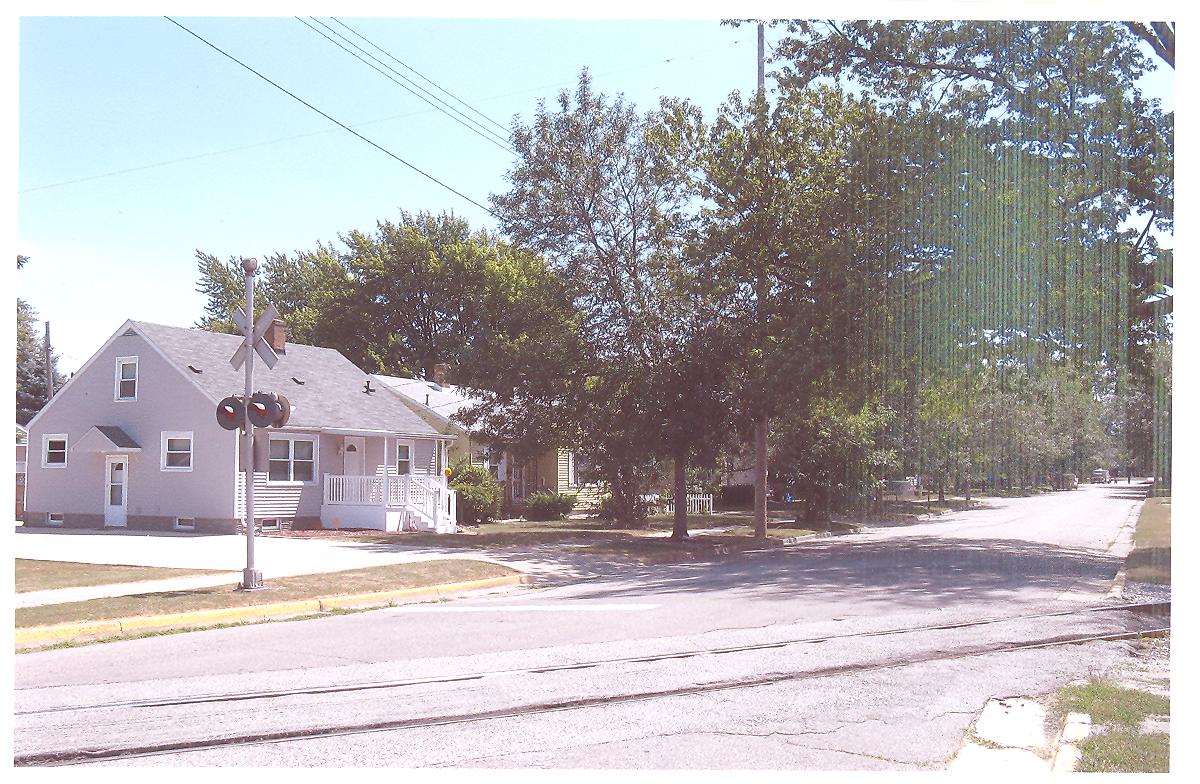 Blend Street, Bay City, Michigan
The millions of American veterans like Rappel, the Witkovskys, and Prophater that obtained education, jobs, and homes through the G.I. Bill are part of Franklin Delano Roosevelt's legacy. The Franklin Delano Roosevelt Memorial symbolizes Roosevelt's legacy by a long waterfall at the end of the memorial's timeline. The G.I. Bill gave millions of American veterans the job skills they needed to get decent jobs and help in getting homes of their own, and it was the precedent for education benefits for subsequent generations of servicemen and women. For me personally, it was much more important. It brought my parents together, helped them get educated and employed, and helped them purchase the home where I grew up.