When thinking of our nation's foundations, our thoughts invariably go to Thomas Jefferson, primary author of the Declaration of Independence.  Ironically, his memorial was the last major architectural anchor of the park's four. President Franklin Delano Roosevelt dedicated it - one of his favorite New Deal projects - on April 13th, 1943, Jefferson's 200th birthday, and it stands as the terminus of the park's southern arm.
The memorial is a public favorite, but critics were not enthusiastic.  They heaped attacks on architect John Russell Pope for his retardataire use of neo-classicism in an era in which, courtesy of World War II, illustrious modern architects had emigrated from Europe poised to make American architecture modern.  The memorial has even been attacked for culling quotes allegedly out of context.  Pope and his artistic team - sculptors Rudulph Evans and Adolph Weinman - deserve better.   Their memorial is a remarkable achievement. 
In the enabling legislation, Congress authorized a memorial to the third President of the United States.  Pope's team, to the contrary, took Jefferson as their client and ignored that he was president.  Pope perceived that Jefferson had written his own obituary, which appears on his tomb at Monticello, as a message for posterity. He gave it a national platform.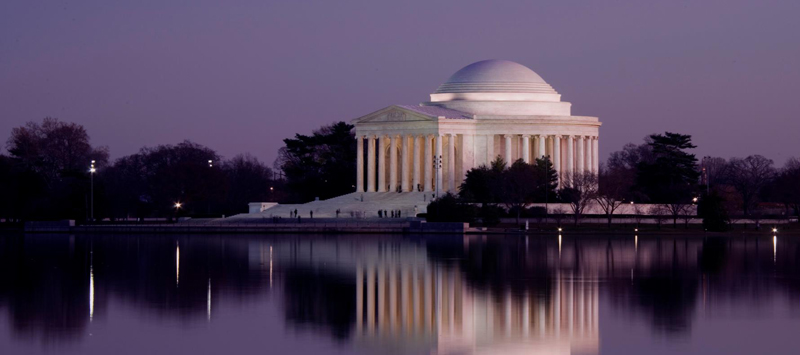 Thomas Jefferson Memorial
Jefferson knew, as did John Adams and other Founders, that we would need constant reminders of our ideals - a trilogy of ideals: freedom (the goal); tolerance (to maximize the number of free) and education (to acquire wisdom which would enable us to forward the goal).
Jefferson's obituary cited three things for which he wanted to be remembered, each representing an aspect of the trilogy.  None of them was that he was president, nor, more remarkably, that he doubled the size of the nation, peaceably, by the Louisiana Purchase, let alone sent Lewis and Clark to explore and report on the gain.  The three things he wanted us to remember were, first, that he was the principal author of the Declaration of Independence (1776) - the most famous proclamation ever written for freedom; second, that he wrote the Virginia Act for Establishing Religious Freedom (drafted 1779, passed 1786), mandating tolerance under the rule of law; and third, that he founded the University of Virginia (1819), for "Light and Liberty go hand in hand."  The University of Virginia was the first major higher educational institution in the country independent of religious basis.  Freedom, tolerance and education: he pulled his pound for each.
Jefferson's obituary constitutes his walking papers for us.  Neither presidency nor Louisiana Purchase held significance as reminders of our ideals.  He wanted us to remember the essential roles in a democracy.
To deliver the message, Pope used vehicles of communication that Jefferson appreciated.  He drew from the Greek, Roman and Renaissance architecture that Jefferson fell in love with in Europe, imported to America, morphed into American symbols, and used to inspire his own designs, from Monticello and the University of Virginia Rotunda, to his Capitol at Richmond and his anonymous submission for the Federal "President's House." American architects have regularly returned to these styles to inspire civic virtue: Greek architecture to remind us of the democracy of ancient Greece; Roman, that we are a Republic like ancient Rome; Renaissance, that we are a nation based on humanism.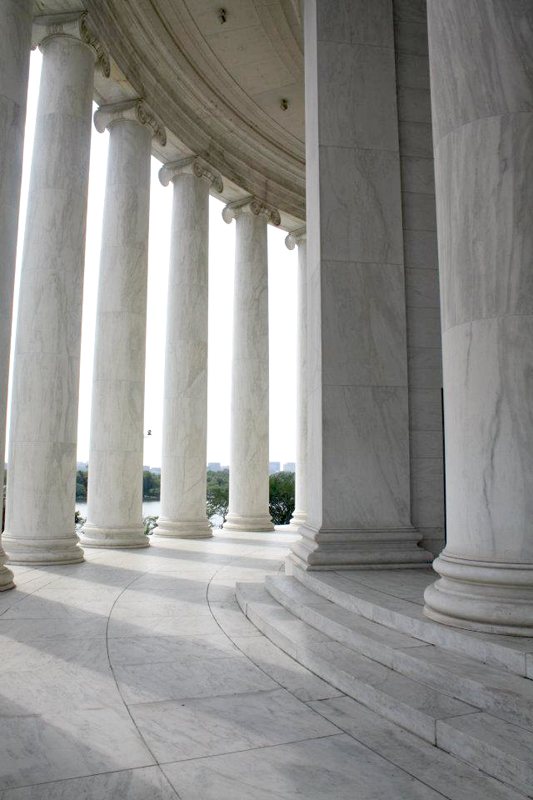 Jefferson Memorial columns
Pope's base derives from the Pantheon of Rome, a domed circular building with a pedimented portico of eight columns with a pair of symmetrical niches, and, inside, a coffered ceiling.  He put Greece in the details: bright Mediterranean-like Imperial White Danby, VT, Marble, rather than the Pantheon's city granite; fluteless, thus highly-reflective, columns, with the earlier Ionic rather than Corinthian capitals; and an elegant peristyle reflecting Greek choragic monuments that spoke of great achievements.  The magnificent peristyle suggests that Pope, like Henry Bacon (Lincoln Memorial), also pays homage to neo-classical visionary French Enlightenment architecture (of Claude-Nicolas Ledoux and Etienne-Louis Boullée): the memorial's profile seems to mimic Boullée's Opéra au Carrousel.  This may refer to Jefferson's  France.
Finally, Pope opened his "Pantheon" on all four sides as did Italian Renaissance architect Andrea Palladio in another of Jefferson's favorites (source of his design for the White House), the Villa Rotunda in Vicenza. This unique hilltop villa opens on all four sides to afford views of all surrounding landscapes, just as Jefferson had his infinite prospects. Palladian villas, too, give us the idea behind Pope's treatment of the memorial pediment. Palladio put his client's family crest in that location.  Sculptor Adolph Weinman offered Jefferson's "family crest" there: "The Committee of Five" whom the Continental Congress appointed to write the Declaration.
Inside, the memorial wraps us in quotations that represent Jefferson's proffered achievements.  Necessarily short - thus clipped from their contexts - they nonetheless vigilantly reflect his push for the trilogy.  Excerpts from the Declaration (Southwest wall) represent freedom; the Virginia Act of Religious Liberties (Northwest wall), tolerance; Jefferson's argument for progress (Southeast wall), education.  The Northeast wall's quote seems an odd man out, but, like the summary quote overhead, connects the other three.  A mix from various sources, it projects Jefferson's position against slavery.  His draft Declaration included a scathing indictment of the slave trade; Congress removed this to secure the slave-state votes. Loosing his indictment made Jefferson realize that it was not going to be his generation that would abolish slavery and must have reinforced his position on education.  An educated public would eventually see that slavery was inconsistent with the new ideals.  Education would lead to understanding, understanding to tolerance, tolerance to universal freedom. These three are perennially relevant.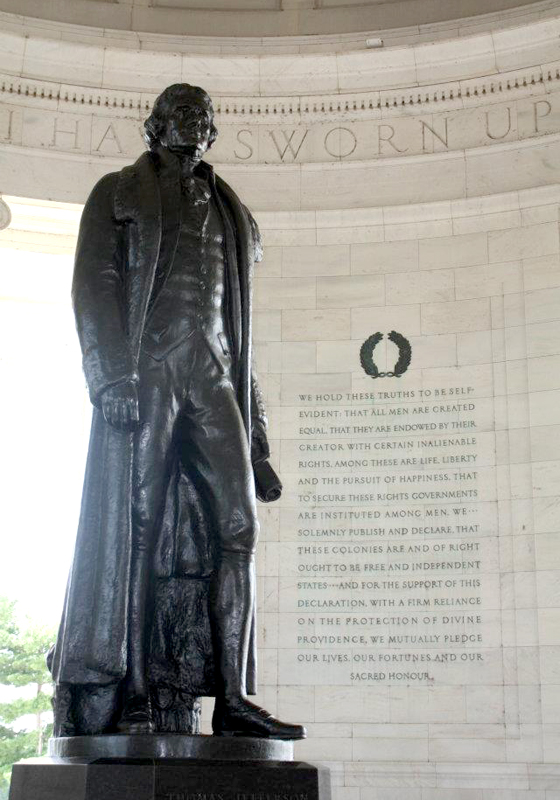 Rudulph Evans' statue of Thomas Jefferson inside the rotunda.
Rudulph Evans followed Pope's agenda. His colossal statue is not of a president, but of a man of the Enlightenment. He looks out a doorless building to the prospect of the future, and the world of which he was a citizen. He was a universal citizen, by natural birthright of freedom, by the fact that this freedom is universal; by his precocious mandate of tolerance under rule of law; and by his understanding of the connection through the encyclopedic education of the Age of Enlightenment.
Pope's remarkable memorial presents Jefferson's autobiography - the essential Jefferson.  Jefferson was, to be sure, imperfect, like the rest of us, but he knew he'd pulled his pound for freedom, tolerance and education.  And he knew this was his legacy.  This legacy, not his presidency or a Louisiana Purchase, would be a model for the world.