On this Memorial Day, let us remember a particular generation of unique Americans who gave something to us that is more important than ourselves. The World War II generation had a sense of pride in their service, sacrifice, and determination to win the war. The World War II Memorial is unique because it recognizes a generation of Americans who shaped the world we live in today. Visitors who visit the memorial often recall stories of their relatives' experiences during this particular time in history. For many it can be an emotional experience since the memorial represents a universal expression of their stories.
As I remember my parents on this Memorial Day, the first thought that runs through my mind is when they would take my siblings and me to a battlefield or a cemetery. Memorial Day was originally called Decoration Day, a day of remembrance for those who have died in the Civil War. Like many Americans who visit the memorial, it reminds me of my upbringing.
Visitors to the memorial often tell a story similar to that of my parents. You may find it familiar. My father was a soldier and my mother was a "Rosie the Riveter" who worked as a bank teller during the war. Like many of their generation now, both of them have passed: my father in 1976 and my mother in 2005. The Great Depression in 1930s transformed their lives. My mother's stories of growing up poor in Salinas, California during the Depression remind of me the value of saving money. My father's stories of growing up in Queens, New York remind me of the value of work especially since jobs were hard to come by. The Great Depression and the Second World War shaped their generation.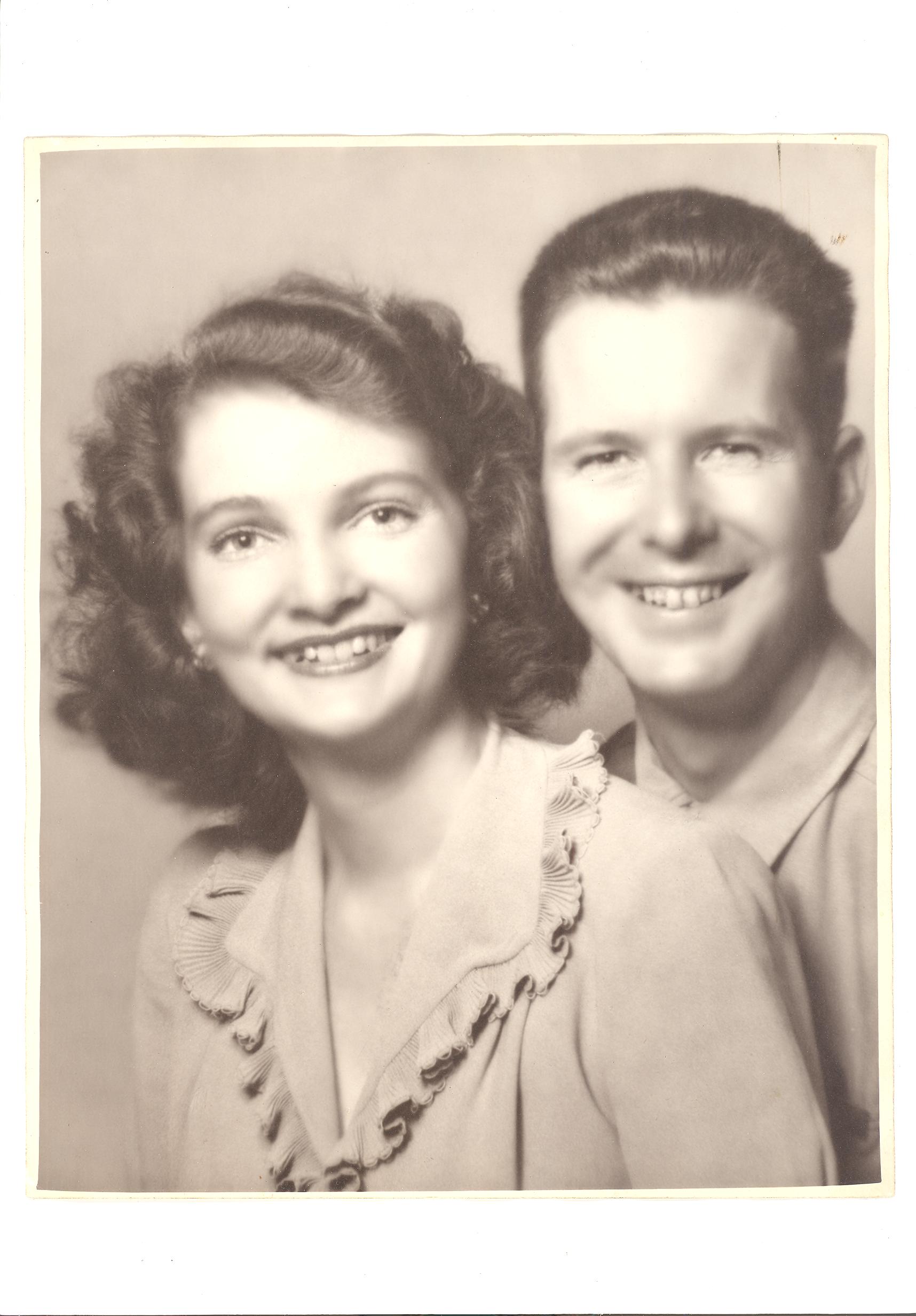 Thomas and Joan O'Brian
My mother, Joan Agnes Cahill, was born in 1924 in Salinas, California. Shortly after she was graduated from high school she began work at the Bank of Italy, later known as Bank of America. Because many men had left their jobs to fight in the war, she got a job as a bank teller at a time when it was not common for women to work as such. Just as my father she was exceedingly influenced by the Great Depression. Many women went into the workforce during World War II for different reasons. Many of them were housewives who liked the extra money, and many wanted to work because of patriotic reasons. The World War II Memorial honors women of my mother's generation with a "Rosie the Riveter/ Aircraft Construction" bas-relief panel that illustrates the role of women working in aircraft factories during the war. The memorial also has a bas-relief entitled "Women in the Military" that honors the 300,000 women who volunteered for military service. Yet another bas-relief entitled "Shipbuilding" exhibits shipbuilders working on a ship and includes two female workers.
My father, Thomas Richard O'Brian, was born in 1917 in New York City. He entered the National Guard of New York on January 31, 1941. He was sent to Fort McClellan in Alabama. As it was for many soldiers, this was his first experience in the Deep South. He was trained to be in a field artillery regiment in the 27th Division.
After the attack on Pearl Harbor the division was ordered to Fort Ord, California as its first stop before it would go to Hawaii to defend the islands. My father and other soldiers attended a USO dance in Salinas where he met my mother. Many men and women met while attending USO dances and eventually got married. Before long, my parents' romance would have to continue, as so many wartime romances did, in letters. The 27th Division was ordered to go to Hawaii before the end of February 1942.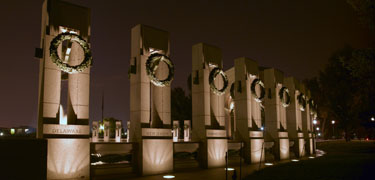 World War II Memorial
My father's story from that point on has its twists and turns. After the division arrived in Hawaii his regiment was assigned to defend the island of Maui. There the regiment attacked a submarine and was rewarded with a unit citation for the sinking. His regiment was sent into the Battle of Midway where they fired on Japanese fighter planes, and he saw the American aircraft carrier USS Yorktown receive several hits. The victory at the Battle of Midway is commemorated in an engraving of author Walter Lord's words on the southern wall of the World War II Memorial: "They had no right to win. Yet they did, and in doing so they changed the course of a war…Even against the greatest of odds, there is something in the human spirit - a magic blend of skill, faith and valor - that can lift men from certain defeat to incredible victory." Those words pay a fitting tribute to those sailors and pilots who won the Battle of Midway. After the battle my father was stationed back on Maui.
In December 1942 my father was involved in the Guadalcanal Campaign which he described as "shooting all the time" by the Japanese as soon as they landed. Posted back on Maui, he continued writing to my mother.
Even as the war raged, my parents were married in Salinas, California on July 3, 1943. From then until his next deployment my father attended stateside training. In August 1944 he was in the 775th Field Artillery Battalion that was sent into the European Theater of Operations. He was involved in the Hurtgen Forest Campaign in the fall of 1944, and the Ardennes Campaign commonly known as the Battle of the Bulge. Then he served in Germany until Victory in Europe in May 1945. He described in a letter to one of his sisters in July his experiences in the war, "Combat was easy. You were either lucky or were not." In October, he came home.
The names of Midway, Guadalcanal, Hurtgen Forest, the Battle of the Bulge, and Germany are engraved along the southern and northern fountain walls of the World War II Memorial. They are engraved with other famous battles and campaigns of the Second World War. They remind us not only of the famous battles of the war, but they serve to remind us of the human cost of the war. The 4,048 gold stars on the Freedom Wall represent that cost, the 405,399 Americans who died during the war. The human cost of battle is also represented at battlefields and cemeteries like Gettysburg and Argonne Forest where Americans sacrificed at a high cost.
As we observe Memorial Day in 2012, let us not only remember those who died in all American wars, but reflect upon the service, sacrifice, determination, and unity of this distinctive generation of Americans. President Harry S Truman expressed it best, "They have earned our undying gratitude. America will never forget their sacrifices." These engraved words in the Memorial not only sum up this generation's experience but they also give us meaning.