Helen "Nellie" Herron Taft's dream of becoming First Lady propelled her husband William Howard Taft into running for the presidency. For her part, she was a lady of "firsts," and was among the First Ladies to transform the role into the substantive one it is today. Her legacy is still evident in parts of the National Mall.
Born in Cincinnati, Ohio in 1861, and a graduate of Cincinnati College of Music, she married William Howard Taft in 1886. Nellie Taft distinguished herself as founder and president of the Cincinnati Symphony Orchestra Association. After the Spanish-American War, President William McKinley appointed William Taft Governor of the Philippine Islands, where he served from 1900 to 1903. There, Mrs.Taft distinguished herself as a public servant. The Tafts worked as a team, reversing discrimination against locals and establishing a policy of equality. She was a fan of Manila's Luneta Park, a swampland transformed in 1820 into the Paseo de Luneta, a plaza in the form of a Roman circus or parade for riding and walking. Later, the Paseo de Luneta served as a fortification, around the old Walled City, or Intramuros, a historic Spanish colonial district that Nellie Taft fought to preserve. The Paseo de Luneta was a community recreation center where concerts were open to all.
When President Theodore Roosevelt appointed William Taft Secretary of War in 1904, the Tafts returned to the United States via Japan, where they were feted like political celebrities. Stateside, Mrs.Taft read the McMillan Commission's "city beautiful" plan for the capital, and discovered another niche. Commissioner Daniel Burnham traveled to Manila to see Luneta, and in 1906 a Luneta type plan materialized as West Potomac Park's "Four Fountains" in a recently-established evergreen and rose nursery. By the 1920s, the "Four Fountains" sported Asian magnolias and forsythias, and by the 1930s, Japanese flowering cherry trees. Almost all was destroyed in the 1940s to make way for the new Potomac bridges. Fountain four, now in the George Mason Memorial, and the Cuban Friendship Urn remain, still surrounded by Asian plantings.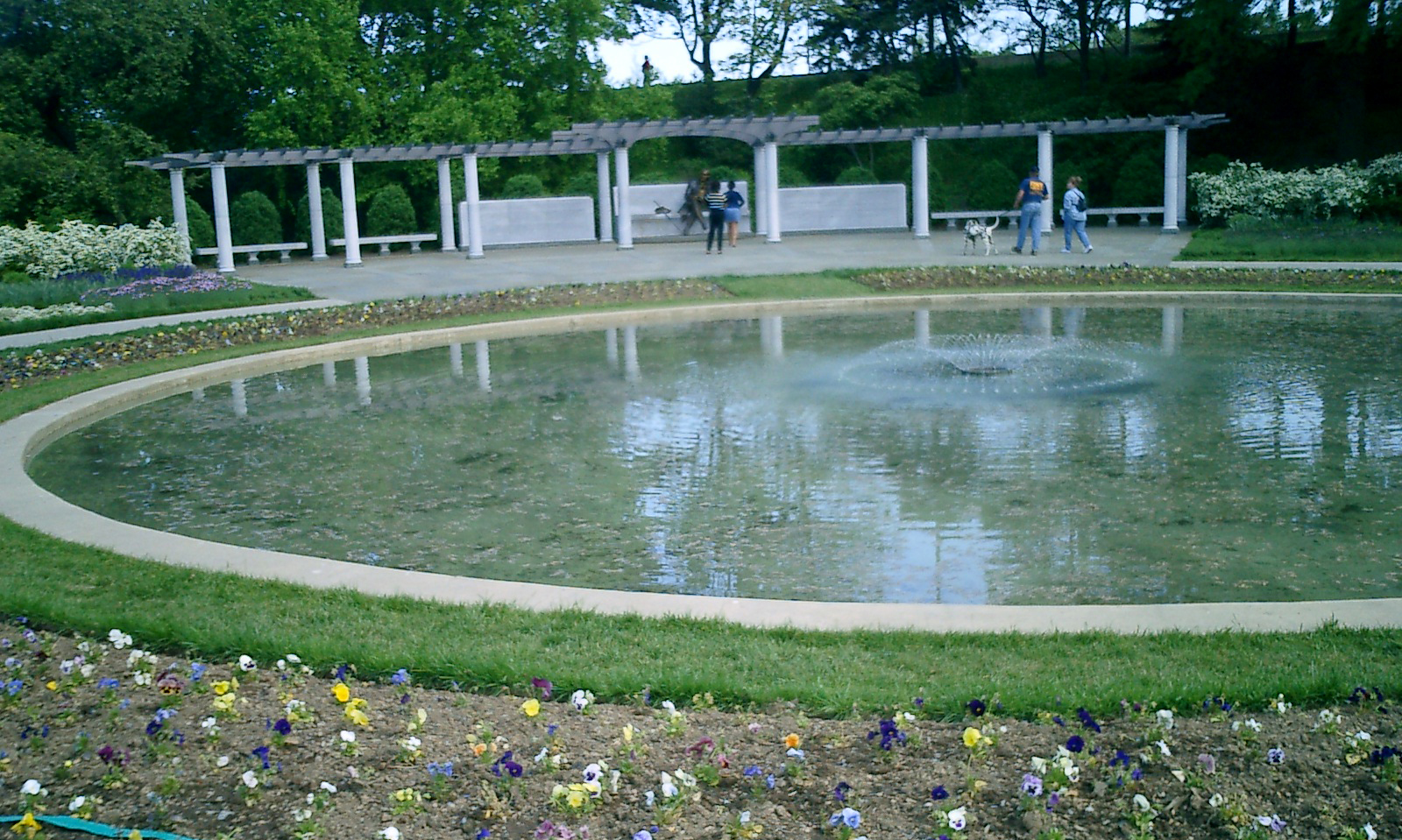 Fountain at the George Mason Memorial (2003 NPS photo)
As First Lady from 1909 to 1913, Nellie Taft continued to be exceptional. She was the most-traveled First Lady to date. She was first to ride with her husband in the inaugural parade, establishing the precedent. She took command of White House domestic and social matters, establishing equal treatment of staff and entertaining a wider scope of visitors, to which she provided entertainment worthy of a nation. She arranged White House concerts, including at a new series of garden parties, featuring established and hot new virtuosi, performing classical, folk, popular and lyrical music. She added dramatic performances, including Shakespeare.
Within a month First Lady Taft had driven the first presidential auto to the new Potomac Park "Speedway," which she promptly renamed Potomac Drive, returning in hours with a Paseo de Luneta type plan for a Potomac Park bandstand and a series of public concerts. She attended the first concert on April 17, 1909, sporting her signature Japanese geisha-style hairdo.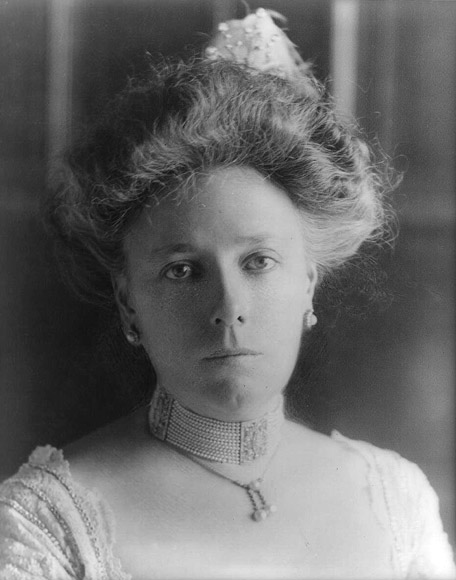 First Lady Helen Taft, 1909 (Library of Congress photo)
Nellie Taft shared an interest in Japanese culture with Eliza Scidmore, whom she had met in Japan. Scidmore was the only woman trustee of National Geographic, the author of seven books on Alaska and Asia, and a correspondent to the New York Times. When Scidmore pleaded for the beautification of Potomac Park with Japanese flowering cherry trees, Mrs.Taft immediately ordered Buildings and Grounds to buy all the cherry trees it could find in the country for that purpose. They located about 90 trees. Fortuitously, the noted Japanese chemist Tokicho Takamine and the Japanese Consul in New York, Midzuno, were both in town, heard of Nellie Taft's plan, offered to buy her more trees in Japan, and suggested the Mayor of Tokyo gift them to the city. Mrs. Taft approved. Three weeks later, on May 17, 1909, Mrs. Taft suffered a stroke. Health issues continued to plague her for the rest of her tenure. Nonetheless, in March 1912, when Tokyo's gift of 3,000 trees arrived, she planted the first on the Tidal Basin, where a stone and plaque now mark the spot.
Now a consummate politician, Mrs. Taft got a $25,000 appropriation for further beautification of the park. However, the improvements were tempered with sadness. In 1912, she led the effort to raise a memorial there to the victims of the RMS Titanic disaster, which included one of the Tafts' treasured aides, Archie Butt.
Nellie Taft's "firsts" continued. In 1912 she became the first First Lady to initiate a Federal act, Executive Order 1498, for Bureau of Public Health inspections of executive branch buildings to secure sanitary and safe conditions for federal employees. In May 1912 she donated her inaugural gown to the Smithsonian, the founding jewel in its popular First Ladies exhibit. She was active until her death on May 22, 1943, when she became the first First Lady to be buried in Arlington Cemetery.
Despite her many "firsts," of which these are just examples, the public will always remember Nellie Taft as the "First Lady of Potomac Park." In 1987, the 75th anniversary of her planting of the first Tidal Basin cherry, there was a gathering at her grave. Another "first" woman, U.S. Supreme Court Associate Justice Sandra Day O'Connor, was among the speakers. O'Connor reflected, "Mrs. Taft's dream became Washington's most famous symbol of beauty."