Memorial Day, May 30, 2012 will mark the 90th anniversary of the dedication of the Abraham Lincoln Memorial. The construction and dedication of this memorial not only stood as a symbol of one our great presidents, but also as a temple to our reunification as a people. The memorial was meant to resemble the Parthenon in Athens and was adorned with ancient symbols of unity and strength. The dedication in 1922 included a number of notable figures: the President of Tuskegee Institute, Dr. Robert Moton; Chief Justice and former President William Howard Taft; President Warren G. Harding; and Abraham Lincoln's son, Robert Todd Lincoln, who was also a former secretary of war and ambassador to Great Britain. The audience also included Civil War veterans from both North and South. Not only were there over 50,000 people in attendance, this ceremony was broadcast across the nation through the new medium of radio.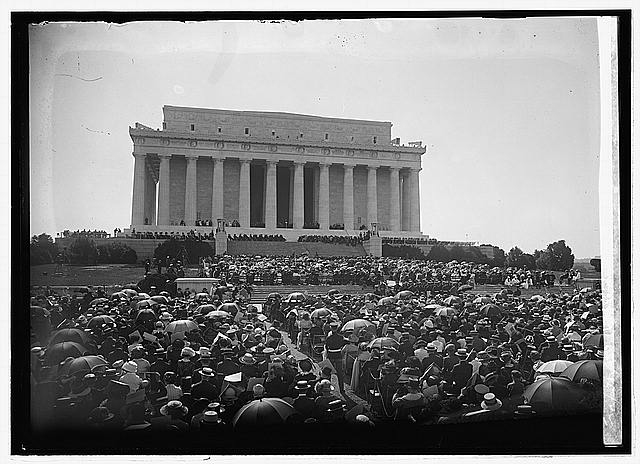 Lincoln Memorial Dedication, May 30, 1922 (Library of Congress photo)
The dedication ceremony began with an invocation by Reverend Wallace Radcliffe from the New York Avenue Presbyterian Church that Abraham Lincoln attended. This speech was followed by the main address, delivered by Dr. Robert Moton. The content of his speech touched on the origins of the discrimination African Americans were experiencing that very day, seated as they were in a separate section. His speech related the contradictory legacy of liberty and bondage by comparing the two ships bound for America: the Mayflower, headed for a land of religious freedom, and a slave ship from Africa, carrying its human cargo. Ever since then, Moton observed, the two principles had been contending for the soul of America. Following Moton's speech, Poet Edwin Markham read his poem "Lincoln, The Man of The People." Chief Justice William Howard Taft then presented the memorial to President Warren G. Harding.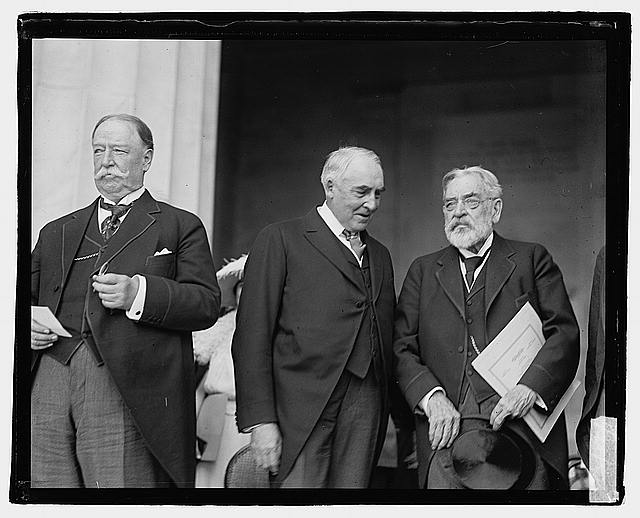 William Howard Taft, Warren G. Harding, and Robert Todd Lincoln (left to right) at the Lincoln Memorial dedication. (Library of Congress photo)
Harding was part of a new breed of Republicans, and also the last of our presidents to be born before the end of the Civil War. An eloquent speaker, President Harding's acceptance speech summarized the memorial's importance by saying, "this Memorial is less for Abraham Lincoln than those of us today, and for those who follow after." The dedication ceremony then concluded with Reverend Radcliff consecrating the memorial with his closing benediction.
Despite the construction of the Lincoln Memorial, the nation would have a long way to go toward the completion of those ideals for which Abraham Lincoln stood. It would take other great Americans, such as Marian Anderson and Martin Luther King, Jr., to break those barriers of segregation faced by Dr. Robert Moton and those seated in the audience that day. Those historic figures would further add to the memorial's meaning by taking Abraham Lincoln's vision of equality to its full measure.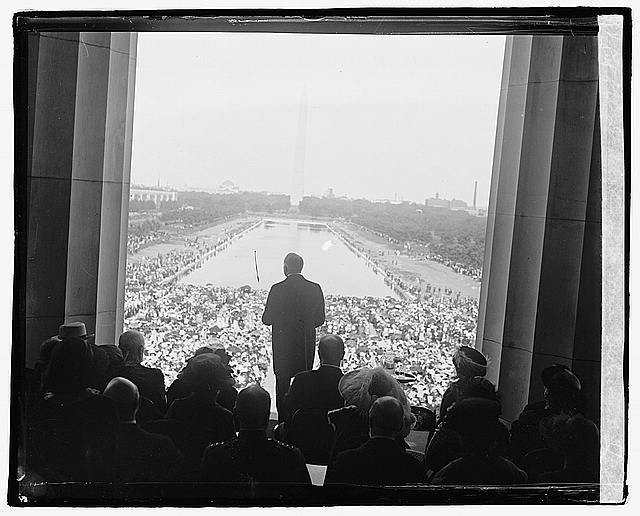 Lincoln Memorial Dedication, 1922 (Library of Congress photo)