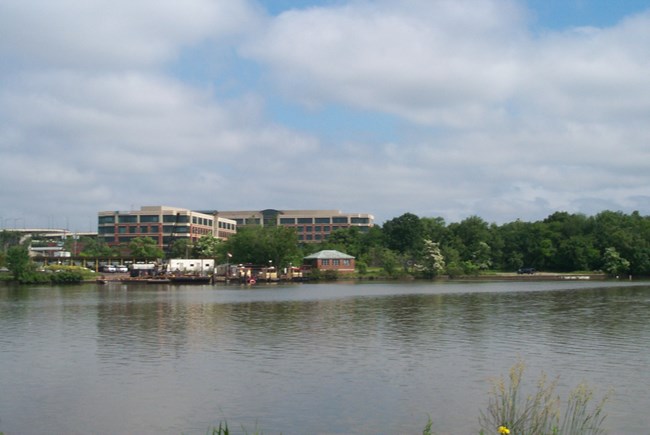 Beginning in 1983, a number of environmental investigations, including a remedial investigation/feasibility study, were conducted at the Site to evaluate the nature and extent of contamination and to analyze cleanup alternatives. Those investigations showed that the Site, including the area southeast of Water Street, was contaminated with industrial waste from Washington Gas containing polycyclic aromatic hydrocarbons, volatile organic compounds (especially benzene), cyanide, and heavy metals. Groundwater at the Site, both shallow and deep, is contaminated with non-aqueous phase liquid (NAPL). Additionally, Site-related contaminants have been detected in Anacostia River sediments. Based on the results of these investigations, and in accordance with CERCLA, the National Park Service selected a remedial action for the government property in a Record of Decision (ROD) issued on September 14, 2006. The selected remedial action includes:
(1) Removal of the top one foot of contaminated surface soils and replacement with clean fill on the government property;

(2) Removal and replacement of certain contaminated subsurface soils up to a total depth of three feet below ground surface in that same area;

(3) Continuation of a pump and treat system installed and maintained by Washington Gas to address groundwater contamination and evaluation of whether the system is effective at preventing contaminated groundwater from reaching the Anacostia River

(4) Further investigation of contaminated sediments in the Anacostia River.
To prevent contaminants from migrating off-site, groundwater is currently being pumped, treated, and discharged off-site; the extracted NAPL is being collected for off-site disposal. Additionally, portions of the Site are fenced and signs are posted to control access.
NPS and the District of Columbia have initiated discussions with Washington Gas concerning cleanup of the government property and conduct of a comprehensive investigation of Site-related contamination in the Anacostia River.