The Importance of Ephemeral Pools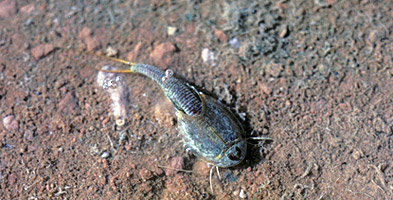 Desert potholes provide homes to a fascinating array of small organisms and microorganisms. Pothole dwellers have unique adaptations which enable them to survive in this feast or famine environment.

Potholes are very easily disturbed. Pothole organisms are sensitive to sudden water chemistry changes, temperature changes, sediment input, being stepped on, and being splashed out onto dry land. Human use of pothole water by swimming, bathing or drinking may change the salinity or pH of a pool drastically. More importantly, this change occurs suddenly, unlike the slow, natural changes to which organisms can adapt. Hikers should therefore avoid using water in potholes as well as walking through dry ones.

While these tiny ecosystems may seem unimportant, they can act as an indicator for the health of the larger ecosystems in which they occur. These pools do not have the ability to counteract acids, so the acid rain caused by industrial pollution may be lethal. Pothole health is monitored at various locations in order to track significant changes in our environment.
Last updated: February 24, 2015