2nd Grade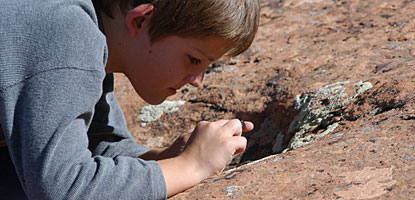 Rocks (download PDF)
Students explore a few rocks and minerals of the area. They investigate how sandstone was formed and experiment with both wind and water to determine which is the most effective erosional process. Students explore cryptobiotic soil, and search for clues to discover how we use rocks differently than the people who lived here in ancient times.
Preparing for Winter (download PDF)
This in-class presentation uses story and visualization to explore how different types of animals survive the winter.
Changes in Plants and Animals (download PDF)
Students explore plant changes by performing a play depicting the life cycle of a wildflower through the seasons. They explore life cycles of frogs and toads, along the way discovering the difference between them. Students learn about insect metamorphosis, focusing on moths and butterflies, and discover the surprising world of insect galls.
Download entire 2nd Grade Curriculum
[2mb PDF file]
Last updated: February 24, 2015