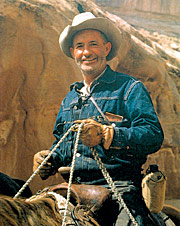 The Friends of Arches and Canyonlands Parks: Bates Wilson Legacy Fund provides direct support to Arches and Canyonlands national parks and to Natural Bridges and Hovenweep national monuments in order to enhance existing projects in these spectacular areas to conserve the land and its cultural treasures for present and future generations to enjoy.
This mission honors the legendary work of Superintendent Bates Wilson, who came to Arches in 1949, inspiring and leading the effort that resulted in Canyonlands National Park being established in 1964. He is regarded by many as the "Father of Canyonlands."


Bates Wilson firmly believed that:
The park visitor must have a great experience;
Exploratory and educational opportunities must abound;
Preservation is our obligation to future generations; and that
Youth indeed are the future: Bates enhanced the lives of countless young people as they explored and learned to appreciate the parks with him.
Go to www.bateswilson.org to learn more or mail a check made out to Friends of Arches and Canyonlands Parks to:
Friends of Arches and Canyonlands Parks
PO Box 1680
Moab, Utah 84532.
Thanks!