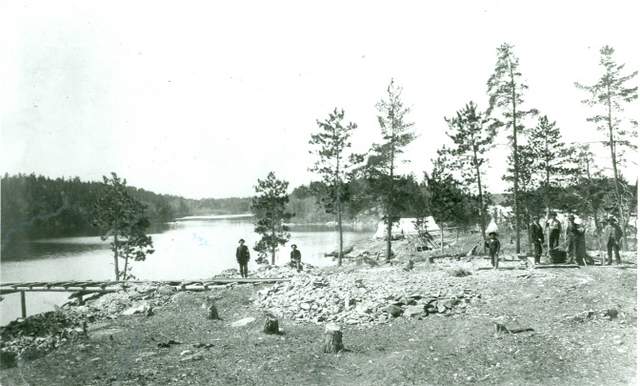 The Little American Mine opened in 1893 and was the most famous mine during the Rainy Lake gold rush. (Minnesota Historical Society, ID HD3. 4r3, Negative 3088)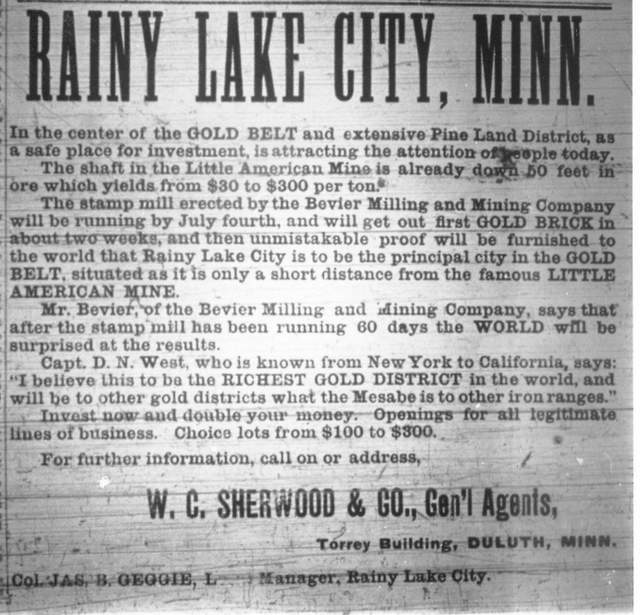 Advertisement from the 1894 Rainy Lake Journal. The development of the town was largely a commercial venture and early boosterism exaggerated the size of the gold fields. (Rainy Lake City Journal microfilm, VNP Library)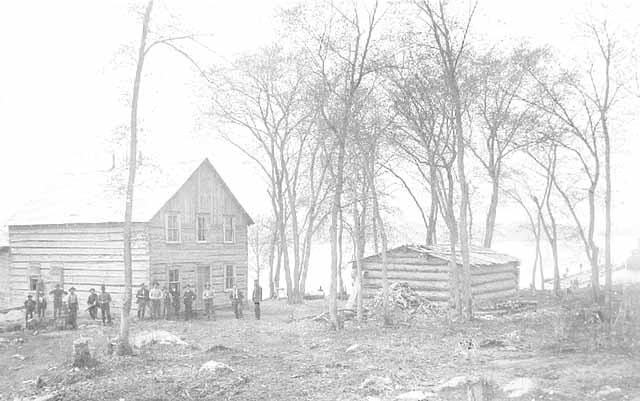 The Green Tree Hotel in Rainy Lake City was one of several accommodations that sprang up to provide housing for the influx of miners. (Minnesota Historical Society, ID MK8.9 RCr4, Negative 34063)
Gold was first discovered in northern Minnesota near Lake Vermilion in 1864, creating a gold rush in the border lakes region that lasted until 1897. In 1893 gold was discovered on Rainy Lake when George Davis and Charles Moore were panning for quartz on Little American Island. Gold and quartz veins on the island were part of a fault that extended for 200 kilometers to the east and 80 kilometers to the west. Davis and Moore immediately staked their claim to the property. Later that year, they sold their interests to Hutch Bevier of Duluth, who formed the Bevier Mining and Milling Company.
The first mine on Little American Island was one of the more famous mines during the gold rush and attracted thousands of people to Rainy Lake, eventually giving rise to the mining town of Rainy Lake City. The town was incorporated in May 1894 and quickly grew, setting in motion a string of major changes that would forever alter the lives of the Bois Forte Ojibwe, already living in the area. The influx of people resulted in settlement pressures and eventually the loss of land for the Bois Forte Ojibwe who lived on the point opposite Rainy Lake City on Black Bay (present-day Sha Sha Point, named after Chief She she wi gishig ok).
In the 1890s the gold fields were not easily reached. It took between three to four days and a variety of land/water transportation routes to get from Duluth to Rainy Lake City. In 1869 the construction of a road between Duluth and Tower provided access to Rainy Lake. By 1890 the Tower Route, via the Crane Lake Portage, opened. It quickly became a major route for the transport of people, supplies, and machinery between the gold mines and Duluth.
Mining continued in the region through 1897. At least eleven mines and claims were established on Rainy Lake, including Tilson Mine; Grassy Island Gold Mining Company Mine; Big Chicago Mine; Old Soldier Mine on Dryweed Island; Ben Franklin Mine; Bushyhead Mine; Gold Harbor or Holman Mine; Little American Mine; Big American Mine; Lyle Mine; and Dixon's Mine. None were particularly profitable and mining interests waned as timber emerged as the dominant industry. By 1900 the post office in Rainy Lake City had closed as the town was "practically abandoned." The Little American Mine closed a year later. During the 1920s and 1930s, a few feeble attempts were made to revive the mining industry, but all ultimately proved to be unprofitable.
Learn More!
---
---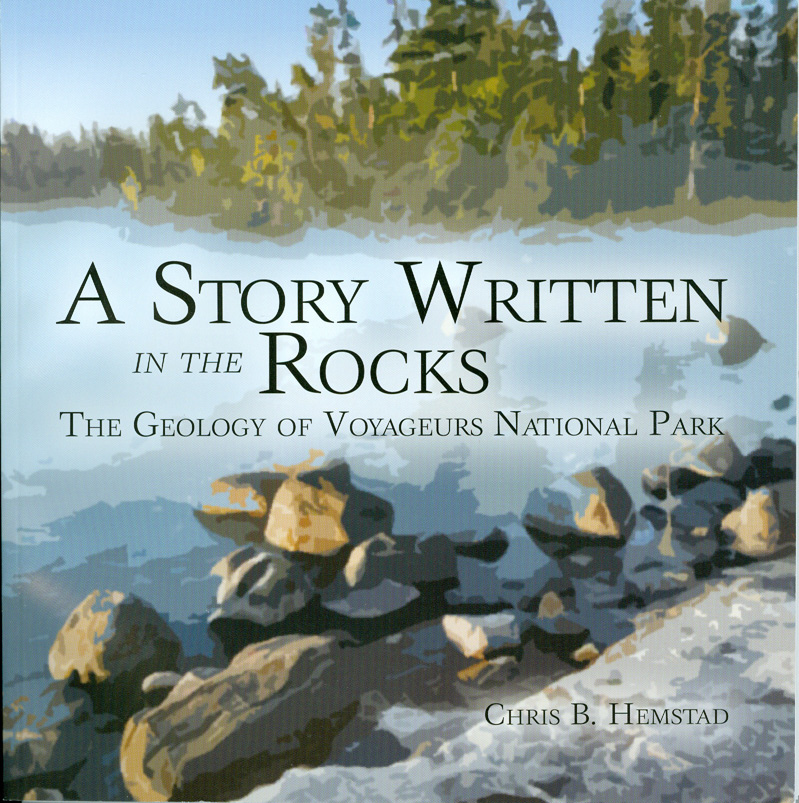 A Story Written in the Rocks: The Geology of Voyageurs National Park by Chris B. Hemstad (2013)
Where can I get this?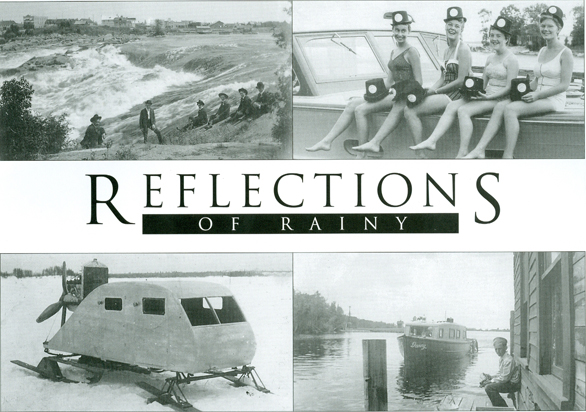 Reflections of Rainy by the Daily Journal (2009)
Where can I get this?
Special History Study: Gold Mining Near Rainy Lake City 1893-1901 by David L. Fritz (1986)
Where can I get this?