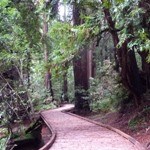 Muir Woods
Muir Woods National Monument contains 6 miles of trails. There is a 1/2 hour loop, a 1 hour loop, and a 1 1/2 hour loop as well as longer hikes on trails that extend into surrounding Mount Tamalpais State Park. View a map of Muir Woods and its vicinity. All of these walks afford views of thousands of old-growth coast redwoods, the tallest living things in the world.
Pets, bicycles, smoking, horseback riding and camping are not permitted within the park. Food is not permitted in the forest.
The trails in Muir Woods are asphalted or boadwalked. Trails on the canyon walls are dirt, narrow, steep, and rutted with tree roots. Stroller and wheelchairs are not advised on most of the upper trails. Trail information is available in the Visitor Center.
Map of Muir Woods
More detailed map of hiking trails (courtesy of Mt. Tamalpais State Park)