Lewis Adams, a former slave and successful tradesman, was the founding force behind the establishment of a school at Tuskegee. He made a deal to deliver African-American voters in the 1880 election. In return, the Alabama legislature passed a bill to "establish a Normal School for colored teachers at Tuskegee." He insisted on having an African-American principal and Booker T. Washington was hired.
Adams, together with George Campbell, a former slave owner, were responsible for bringing Booker T. Washington to Tuskegee. Adams bought a "good" horse, second hand lumber wagon, a plow, harness, and feed for the school.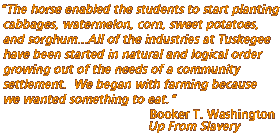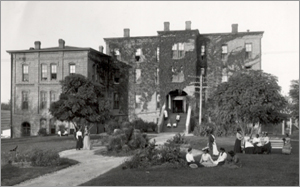 Students relaxing in the sun.
n.d.
Library of Congress
LC J694-74
Using his outstanding fundraising capabilities and negotiating skills, Washington purchased an abandoned plantation of 1,000 acres. The plantation became the nucleus of Tuskegee Institute and Tuskegee University's present campus. By 1906, the school had 156 faculty members, 1,590 students, and owned 2,300 acres of land. Although Tuskegee Institute receives an appropriation from the State of Alabama, the school remains a private institution.