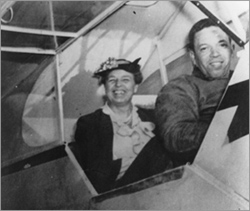 "Chief" Anderson and First Lady Eleanor
Roosevelt
March 1941
Air Force Historical Research Agency,
234.821 v. 4


Charles "Chief" Anderson
Known as "Chief" Anderson by the pilots he trained, Charles Alfred Anderson was a pioneer of African-American aviation. A commercial pilot, he and Dr. Albert E. Forsythe were the first African Americans to fly a transcontinental trip from Atlantic City to Los Angeles and back in 1933. The two later flew a goodwill flight to Cuba, Jamaica, Haiti, and six other Caribbean countries in their plane named The Spirit of Booker T. Washington.