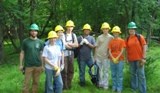 Student Conservation Association
The Student Conservation Association (SCA) provides college and high school-aged students with hands-on conservation service opportunities in month-long summer projects.
Here at Morristown National Historical Park, we have been utilizing SCA high school crews & summer conservation interns for approximately 25 years. The high school crews spend the majority of time on on trail maintenance but also assist in both the Wick & Cross Estate Gardens and help out with landscape maintenance projects particularly at Washington's Headquarters.
The summer conservation interns are usually college students or graduates who assist the Natural Resource Division through vegetation and other resource monitoring, assisting with maintenance of the Wick Orchard, exclosure maintenance, and lots of invasive plant control. SCA partners with Americorps in providing financial assistance to summer conservation interns.

SCA National Crews
Up to eight students from around the country are paired with experienced SCA crew leaders to build trails and restore habitat in national parks and on other public lands. SCA's National Crews provide a formative experience, as members serve nature and challenge themselves, individually and as a team. In the process, the Crews get a lot of important work done. Learn more about National Crews here.
You can also visit the SCA's main website at http://www.thesca.org/serve.