Stevens Canyon Road Rehabilitation Project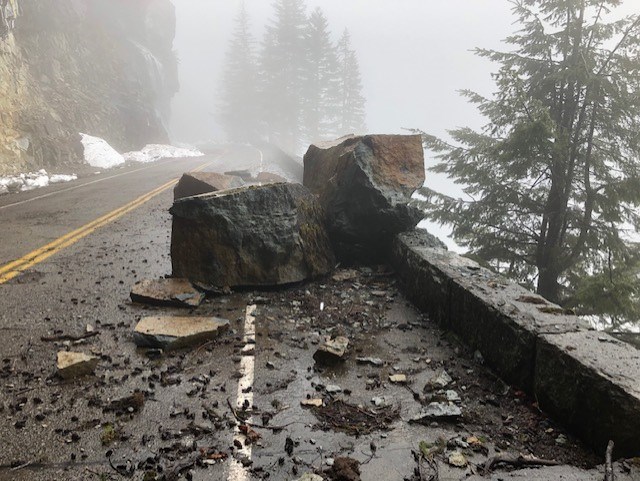 A multiyear rehabilitation project on Stevens Canyon Road, the only east-west thoroughfare in the park, has begun. The ever popular Stevens Canyon Road has suffered extensive damage over the years and is in dire need of an overhaul. Contractors will be working on replacing stone guard walls, repairing drainage grates along the roadway, patching holes in the road surface, and more.
Stevens Canyon Road will open for the season on Friday, July 15 at 8 am. The road will be open for through traffic until 6 am on Monday, July 18. At that time, the section of road between Stevens Creek and Box Canyon will be closed to all vehicle, bicycle, and foot traffic.
Beginning Monday July 18, each week Stevens Canyon Road will be open to through traffic starting each Thursday evening at 8 pm until Monday morning at 6 am. Although the road will be open Friday, Saturday, and Sunday, visitors should expect 20–30-minute delays due to a single lane closure through a damaged section of road. Traffic lights will manage access through this area. A map for this closure is available.
Through September 5 (Labor Day), contractors will be working Monday through Thursday in the area between Stevens Creek and Box Canyon.
There are multiple areas with gravel and abrupt transitions from paved portions of the road to unpaved areas. Drive slowly, be mindful of bumps and road edges, and consider the clearance of your vehicle before driving Stevens Canyon Road. The road may not be suitable for all vehicle or bicycles.
What does this mean?
If you are in Packwood, WA and want to get to Paradise on a Tuesday afternoon, you will need to drive to the Nisqually Entrance, near Ashford, WA, to access Paradise.
If you are in Packwood on a Saturday morning and want to get to Paradise on a Saturday morning, you can enter the park at Stevens Canyon Entrance and drive Stevens Canyon Road to Paradise.
| | |
| --- | --- |
| Currently Closed | Currently Open |
| Grove of the Patriarchs Trail at suspension bridge. Do not attempt to cross the Ohanapecosh River. | Road between Nisqually Entrance and Paradise |
| | Stevens Canyon Road from junction of Paradise Road to Bench/Snow Lake trailhead |
| | Visitor Centers: Jackson Visitor Center at Paradise, Ohanapecosh Visitor Center, Longmire Museum, Sunrise Visitor Center |
| | Bathrooms and parking area at Grove of the Patriarchs, access to Silver Falls Trail and Eastside Trail |
| | Carbon River (limited parking) |
| | Ohanapecosh Campground, Cougar Rock Campground, White River Campground* |
| | Mowich Lake Road |
Federal Highways Administration Project Newsletter
July 15, 2022
July 29, 2022
August 5, 2022
August 12, 2022
*For more information on road and campground status visit:
Road Status Page
www.facebook.com/mountrainiernps
www.twitter.com/mountrainiernps
Last updated: August 12, 2022