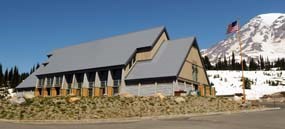 Paradise is the most popular visitor destination in Mount Rainier National Park with its spectacular subalpine meadows, miles of hiking, and jaw-dropping views of the mountain, glaciers, and the Tatoosh Range and, on a clear day, Washington's southern Cascade peaks.
Construction at Paradise:
Summer 2010 Update
On October 10, 2008, two years of construction—and many additional years of planning and design—culminated in the opening of the new Henry M. Jackson Memorial Visitor Center at Paradise. The dramatic new building features a lobby open to the rafters with tall windows framing majestic Mount Rainier and the Tatoosh Range. New exhibits provide ample opportunity to learn about the plant and animal life, geologic setting, and human history of Mount Rainier. The theater showcases a new park film emphasizing the scale and impact of Mount Rainier. Food service and a gift shop round out the offerings to make your visit to Paradise comfortable and rewarding.
The new visitor center is designed to match the rustic architecture style of the park's historic buildings, including the Paradise Inn. Architectural design of park buildings dating from the early 1900s incorporates stone and wood to fit into the natural setting. A primary reason for replacing the original Jackson Visitor Center was to create a building more in harmony with this setting.
The new visitor center is smaller and more energy efficient than the old one. The old visitor center collected large amounts of snow in winter, which was removed by running hot water through a system of pipes embedded in the roof. This consumed as much as 500 gallons of diesel fuel per day— acceptable in the 1960s but not anymore. The new visitor center has an elegant, steeply-pitched roof well suited for the snowy climate at Paradise. The new visitor center also solves problems of accessibility and safety which were present in the older building.
The old visitor center was demolished and replaced in late Fall 2009 with expanded parking (originally 136 spaces, now 231 spaces), along with pedestrian plazas and restored with native vegetation. This parking is primarily intended for overnight and longer-term trailhead users, whereas the parking area adjacent to the new visitor center is intended for short-term (2-hour) parking.
Some long-time visitors were sorry to see the original Henry M. Jackson Memorial Visitor Center go. Perhaps they were nostalgic for a place that figured in their family's experiences, or felt affection for the building's quirky charm. We hope the new visitor center—with its beauty, sustainability, and state of the art exhibits— will develop its own loyal following of people whose visit to Paradise was enhanced by its presence.