Camp Muir Trail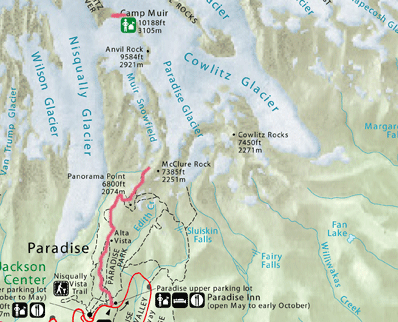 Trail Description:

Distance, round-trip:

9 miles

Elevation gain:

4600 feet

Hiking time, round-trip:

6 to 8 hours

Wilderness camps:

Camp Muir

td>

Although thousands of people hike to Camp Muir each year, it is not for the inexperienced or novice hiker. This hike is long, arduous and potentially hazardous if the weather turns bad, and it can change suddenly.

Mistakes in navigation when traveling to or from Camp Muir during storms or "white-outs" have resulted in lost climbers and hikers and occasional fatalities. Bring a map, compass, and/or GPPS and know how to use them.


Trailhead Location:


The trailhead is located to the left of the ranger station in the large parking lot at Paradise.


Along the Trail:


Follow the Skyline Trail 2.3 miles upward to Pebble Creek. Be sure to treat water before drinking from the creek! Here the Muir Snowfield begins. The next 2.2 miles involve an ascent of 2800 ft. up the snowfield.


Backpacking:


Camp Muir may be used by backpackers who consider Muir their destination and by climbers who will travel beyond the high camp. Climbers must have a partner and the technical equipment and expertise necessary for a safe climb. Permits are required for all backpackers and climbers. They are available at the Paradise Ranger Station. The public shelter at Camp Muir can accommodate only 25% of the people who may be staying at Muir each night. It fills on a first-come, first-served basis. Do not depend on space being available. No pets on trails. Treat water before drinking.
Last updated: March 31, 2012