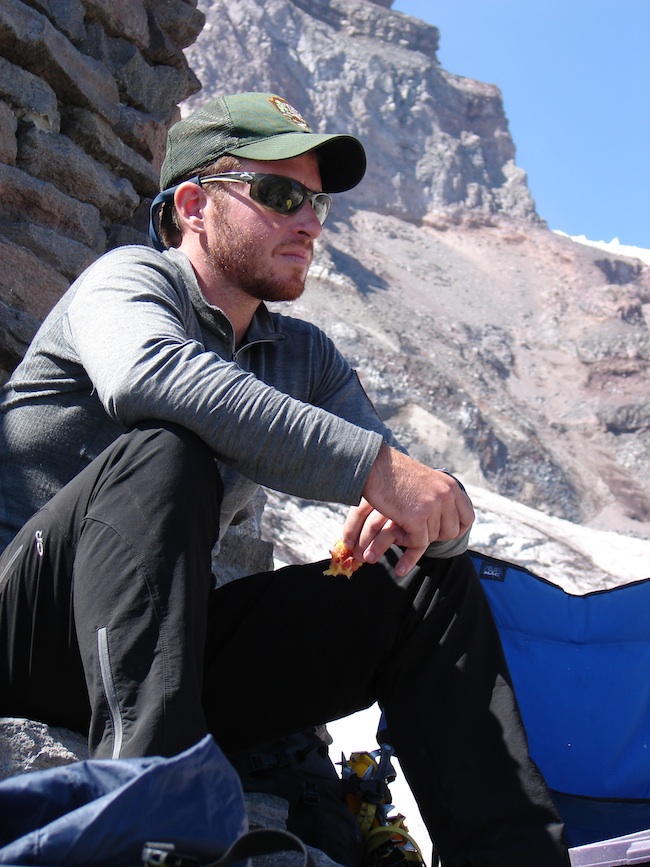 The country lost a true hero during an upper mountain rescue on the Emmons Glacier on June 21, 2012. Climbing Ranger Nick Hall had a fatal fall during which he slipped approximately 2,500 feet from 13,800 feet on the north face of the mountain.
Mount Rainier National Park Climbing Ranger Nick Hall had a passion for wilderness and possessed strength and courage that inspired those who knew him. Born and raised in Maine, Nick worked for four seasons as a climbing ranger at Mount Rainier National Park. He was a quiet youth who drew his energy from nature. Inspired and motivated by the outdoors, he lived his life embracing his passion for skiing and climbing mountains.
"Nick possessed all the attributes desired in a mountaineering ranger at Mount Rainier," recounted Randy King, Mount Rainier National Park Superintendent. "...technical skills, experience, judgement, endurance, an ability to connect with people, a commitment to service, and - ultimately - courage. Nick radiated an inner strength and was at home on the mountain."
Mountain terrain was home to Nick. As a boy in Maine, he discovered he was a strong skier and loved being on the slopes. After graduating from Katahdin High School, he joined the U.S. Marine Corps and spent the next six years working in technical fields, including maintenance and repair of aircraft communications, navigation, and weapons systems.
Following his military service, Nick enrolled at Western State College in Gunnison, Colorado, entering their Recreation and Outdoor Education Environmental Studies program. "Nick was an excellent student... quiet in class, passionate about the outdoors, with a sly smile when amused," recounted Matthew Ebbott, one of Nick's professors.
After completing his program at Western State College of Colorado, he worked many jobs that afforded him outdoor experiences. He began working as a River Ranger for the Bureau of Land Management in Utah and spent a season aboard the Priest Point, a fishing vessel from Petersburg, Alaska.
"Working on the Priest Point, spending a season in the open waters of the West Coast seine fishery, you're always on the outside waters, rolling around, " said Jeff Erickson, Captain of the Priest Point. "You have to be strong to handle that. Nick was always a pleasure to have on the boat: he learned things quickly, and dealt well with the late hours the job required. There wasn't much money in in... it was all for the glory, and he loved it."
"Being a marine and a park ranger show character beyond the normal person," Erickson continued. "This is reflective of the way he was raised. He was disciplined and could handle the stresses of dangerous work and had a good time along the way."