Building Sustainability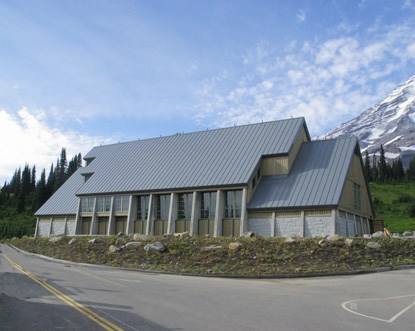 The Jackson Visitor Center at Paradise
Designed and built to meet LEED Silver standards, the new Hencry M. Jackson Visitor Center at Paradise greatly recduced its carbon footprint by reducting its size from 60,000 sq. ft. to 18,000 sq. ft. Chilled water from snowmelt is used to cool the building. High levels of daylight and passive solar are provided throughout the building. More than 20 percent of building materials were revionally procured. The new vistor center uses 78% less fuel and 67% less electricity than the old visitor center. The result is a 78% smaller carbon footprint.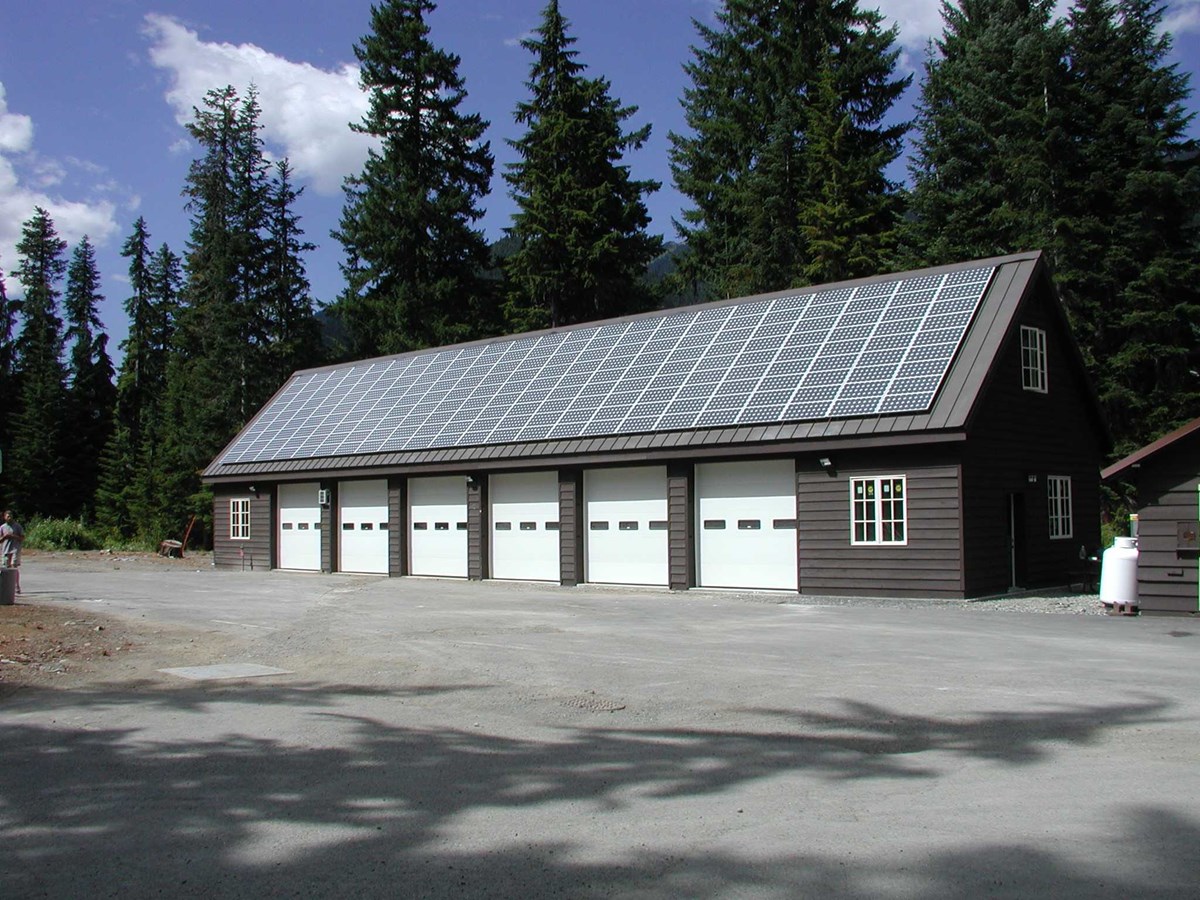 Solar Power Comes to White River
In the summer of 2004 the park completed the largest remote hybrid solar energy system in Washington State at the seasonal White River facility. The project, a cooperative effort between the National Park Service, Sunwise Technologies and Bonneville Power, was funded by the Green Energy Parks program. The new solar hybrid system replaces a generator-only run system by producing 85% of the electricity required for the summer season with the remaining 15% supplied by a generator. The previous generator ran 24 hours a day, creating noise and emission pollution. The 15.5-kilowatt system provides power for employee housing, water pumping, the Wilderness Information Center, the entrance station and public restrooms. This area is prime nesting habitat for the northern spotted owl in addition to summer habitat for White River area park employees. Now both the wildlife and park staff benefit dramatically from the quiet operation of the solar electric system. The benefits of the system are reduced fuel consumption, reduced emissions, reduced noise levels and lower annual operating costs. The system design helps the park meet our goal of protecting the environment and serving the public.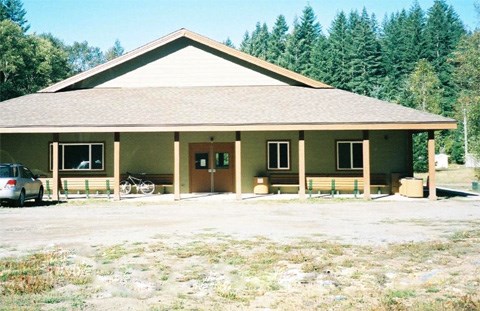 Education Center
The park Education Center which opened in July 2006 is a structure that demonstrates Mount Rainier's commitment to green building. The exterior walls are constructed of a polystyrene block system and have an R50 insulation rating, twice the recommended value. Energy efficient windows and skylights maximize the natural light and reduce reliance on electricity for lighting throughout the facility. Other sustainable elements are recycled and recyclable carpet, dual flush toilets and an in-floor radiant heat system.

For more information visit,
Park Education Center.
Last updated: February 28, 2015