Planning Your Visit to Mount Rainier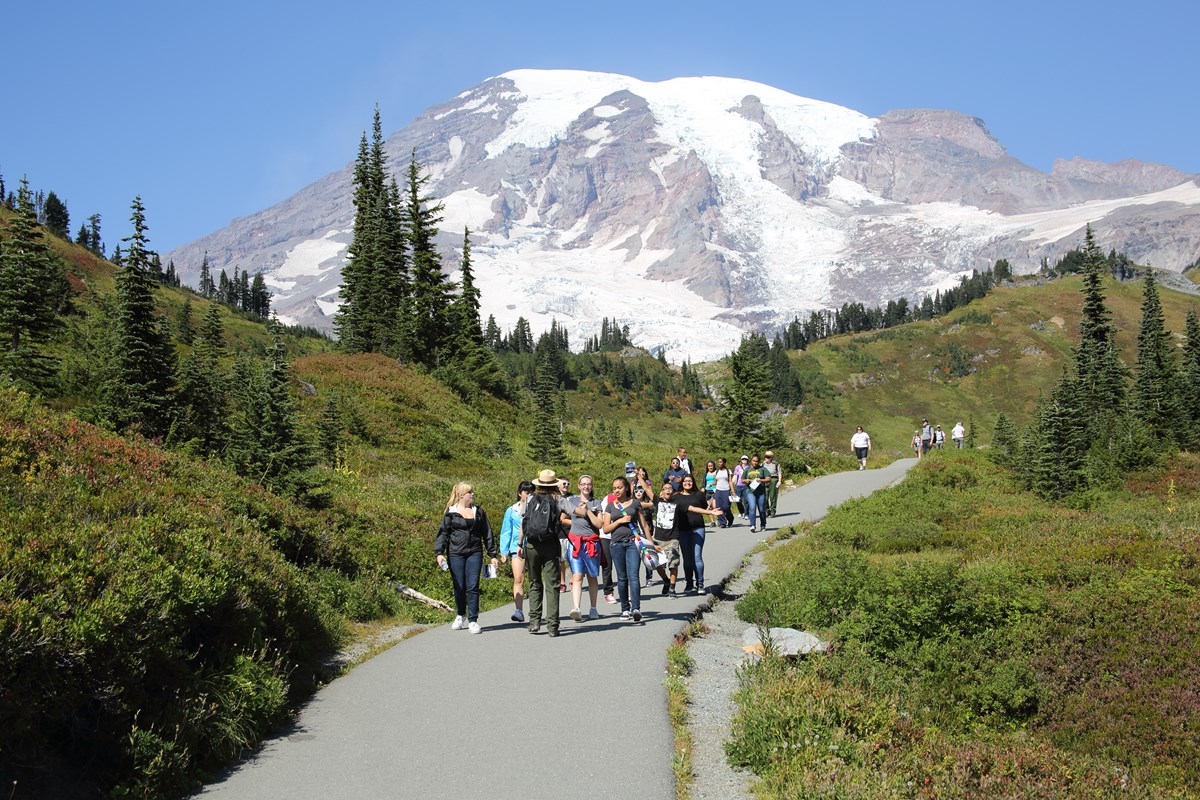 Working together, it is our hope to provide a learning experience that is best suited to your students. Our programs are curriculum-driven, and are aligned with the new national standards. But it is also our goal to build upon what is going on in classroom in order to take full advantage of this experience. Plan your trip well before your students ever leave school. Work with the Education team at the park to plan the educational experiences and activities for the field trip. Share this with all the teachers and chaperones involved. This will have tremendous benefits for the success of your program.

Protection of the Park
It is our goal to have an exciting field trip where students are involved in the learning process. It is also essential that we follow all park rules and practice Leave No Trace principals (www.lnt.org). Prior to your arrival, please discuss these ideas with your students.
Respect the plants and animals who call Mount Rainier home.
Respect the visitors who in many cases have traveled a great distance to experience this iconic place.
Pre-Trip Planning In Your Classroom
Make field trip planning part of in-class learning. An excellent resource to prepare your students for this adventure is the park's web site.
Use pre-visit activities to help prepare the students for the field trip. Get the "nuts and bolts" before you start.

Know how to get to the field trip site, how long it will take, and where you will have lunch. Bring along any supplies and materials or even snacks needed for activities that you have planned.

Develop very clear learning objectives and share them with your students! Make sure that the other teachers and your chaperones also know what these objectives are and what their responsibilities are.

Have you set expectation with your students? Do they know they are accountable for learning? A field trip is not a day off from school.
Students will often find more buy-in to the experience if they are also a part of the fund raising efforts.
Safety
Safety is our number 1 priority, as any type of accident can ruin a field trip. Mount Rainier is an incredibly dynamic landscape with both steep, rugged, trails and weather that can change dramatically in a short period of time. It can be very easy for people to get lost and disorientated, so students must stay with adults at all times. If the ranger in charge in uncomfortable with any situation and feels it is unsafe, they will discontinue the field trip.

Preparing Your Students
The safety of you and your students during your visit to Mount Rainier is of the utmost concern to us. And the better prepared your students are, the more they will take away from this experience. This includes preparing them academically and physically for this adventure.
Clothing
Your students will be better ready to learn if they are comfortable and warm. Remember that in nearly all situations, the weather on Mount Rainier will be colder than the weather at your school. Because the weather on Mount Rainier also can change very quickly it's important to have multiple layers. When planning a winter visit to the park, talk to your students about changing weather in the mountains and the importance of choosing the right clothes to wear. If there are winter conditions on the mountain; students should dress in non-cotton layers for warmth and bring these items. Footwear should be comfortable and appropriate for rugged and/or snowy terrain. It's always a good idea for student to bring a set of dry clothing for the ride home on the bus. Suggested clothing includes: warm hat, warm coat, sunglasses, gloves or mittens, waterproof shoes, waterproof outer layer, & dry change of clothes.

Lunch Time
Depending on the program you choose and the distance you will be driving to get to the park location, you may be arriving close to your student's lunch time. Because there are not suitable locations, we typically do not eat while on the trail so students do not need to carry their lunches with them but could be left with the bus. A water bottle however is essential as the mountain air can be very dehydrating.

Nametags
It is very helpful for the rangers leading the group, that everyone wears nametags. A single piece of masking tape with a first name written in BIG letters works well. Remember to ask that even the teachers and chaperons are wearing readable nametags.

Group Size
Before you arrive, please have your group separated into groups of not more than 20 people (remember to include your chaperones in this number). Each group of 20 will have one ranger. It also helps to divide these groups of 20 into smaller "sub-groups" before the trip and color code their name tags. Students show know ahead of time which group they are in and who is their chaperone.

Program Times
All of our Education programs begin at a set time between 10am and 11am, and last for approximately 2.5 hours. Please ensure that you have realistically calculated what time you will arrive at the program location. A bus traveling up the roads on the Mountain, often take much longer than mapping says it will. If you leave school later than you had planned, please contact the Education Center @ 360-569- 6590. There is some flexibility to stretch or shorten your program to match your timetable; however some programs cannot be done with less than 2.5 hours. We realize most schools have to spend a great deal of time on the bus in order to get to the park. It may be worth considering alternative transportation so that your day is not so rushed.

Fees
Our programs are free. In order to waive the entrance fee to the park, you must fill out the educational fee waiver form. The program must have an educational focus. Please complete this fee waiver form and send it in at least one month prior to your trip. You will need a signed copy of it to get into the park at the entrance station.
Education Center
The Mount Rainier Education Center, located at Park Headquarters between the towns of Elbe and Ashford can be used as a place for students to use the bathrooms, eat a snack and is a perfect stop for an orientation before heading up the mountain. Longmire is approximately 30 minutes and Paradise is one hour from this location.

Transportation
We do realize that transportation can be your biggest challenge in getting your students here. Mount Rainier is a climate-friendly park, so in order to reduce our carbon footprint, please have your chaperones either ride with the students on the bus or carpool. This is very important. Every effort is made to reduce greenhouse emission. Please note that all vehicles (even 4wd) are required to carry tire chains during from November through May. It is also recommended to check road and weather conditions, or the park webcams for an idea of current conditions.
Limited Week-day Service on the Mountain
During late fall, winter, and spring months, there are limited services at Longmire and no services at Paradise. Please advise your students, chaperones, and bus drivers to please come prepared with everything they will need during their visit to Mount Rainier National Park.

Post Trip Follow-up
You will be sent a survey monkey link as a follow-up after your visit. We value your feedback so that we can continue to build upon our program and appreciate all input. Did you accomplish the planned learning objectives? Don't forget to build upon your Mount Rainier experience once you return to your classroom. Let us know if there is anything we can do to help in these efforts.

Contact
Our Education Staff can be reached at 360-569-6590.

Last updated: July 26, 2018