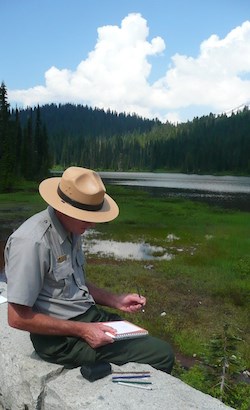 Teacher-Ranger-Teacher Program
The Teacher-Ranger-Teacher (TRT) program provides opportunities for selected teachers to connect to resources in a national park by spending the summer working as a park ranger. The program focuses on teachers from schools with ethnically diverse student populations, who have had little or no experience with a national park, or little opportunity to explore the relevance parks can have in their lives or the lives of their students. The Teacher-Ranger-Teacher Program is a partnership relationship between the teacher, their school district, and the park and is managed through a formal agreement.
Teacher-Ranger-Teachers perform various duties depending on their interests and the needs of the park, including developing curriculum-based materials, presenting interpretive programs for the general public, staffing the visitor centers, helping to lead teacher workshops or taking on special projects.
Once teachers return to their schools, teacher-rangers bring their national park experience into their classroom throughout the school year. During National Park Week in April, teacher-rangers wear their NPS uniform to school and engage students and other teachers in activities that relate to their NPS experience.
The Teacher-Ranger-Teacher program provides a $3,000 living stipend for full-time work. Shared park housing is also provided.
NOTE: Mount Rainier National Park will not be participating in the Teacher-Ranger-Teacher program in 2016.
For more information, please email the park Education Specialist.