Lesson Plan
Fire, Flood, and Fury!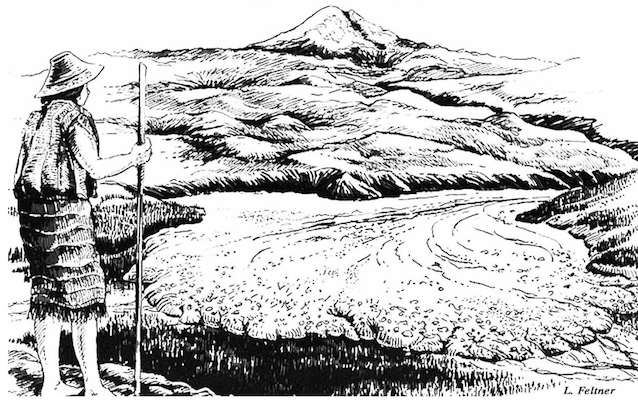 Grade Level:

Fifth Grade-Ninth Grade

Subject:

Geology, History, Volcanoes

Duration:

50 minutes

Group Size:

Up to 36

Setting:

classroom

Keywords:

lahar, metaphor, oral history, Native American, mount rainier, Mount Rainier National Park, Cascade Volcano Observatory, volcano
Overview
Native American oral traditions chronicle geologic events in the recent history of Mount Rainier. These stories are read, interpreted, and illustrated by students with the use of storyboards. This lesson plan is part of the "Living with a Volcano in Your Backyard" curriculum, created through a partnership between Mount Rainier National Park and the US Geological Survey Cascades Volcano Observatory.
Objective(s)
Students will:
Recognize that humans and volcanic activity at Mount Rainier coexisted during the past 10,000 years
Recognize how people have used metaphors to interpret volcanic activity
Identify and interpret the main points of a story

Background
This activity provides information about how some of the earliest human inhabitants in the Pacific Northwest witnessed geologic activity at Mount Rainier. Native Americans used oral, rather that written, communication to pass down historical information, heritage, and traditions (see sidebar on "Story Telling as a Talent", posted below under Materials).
Native Americans settle near the Cascade Volcanoes
The first humans to live in the vicinity of the Cascade volcanoes arrived during a period of climatic warming at the end of the last great Ice Age approximately 10,000 years ago. Early inhabitants west of the Cascades encountered a landscape undergoing a vast transformation from glacial to vegetative cover. Gigantic glacial floods abated east of the Cascades, which permitted re-vegetation of freshly scoured land surfaces and river channels. These first inhabitants consisted of foragers who ranged widely across the landscape and had the skills to utilize a variety of plants and animals from their local environments. Approximately 3,000 to 4,000 years ago, most people settled into villages along the waterways where they had easy access to their canoes and nearby food sources, especially salmon. Villagers became expert at seasonal harvesting and preserving.


Native Americans witness volcanic eruptions
Volcanic activity at Cascade Range volcanoes has been frequent and dramatic throughout the last 10,000 years. Most volcanoes in the Cascades have lit the skies with eruptions during the period between the beginning of settlements and the present. Mount Rainier experienced remarkable changes during this period. Hundreds of eruptions produced volcanic rock and ash that enlarged the volcano. At one point, a large piece of the volcano disappeared during a massive landslide, but the mountain rebuilt itself. Rock debris from lahars (volcanic mudflows) buried valley floors repeatedly, sometimes as far away as 100 km (60 miles) from their source on Mount Rainier.
The ancestors of people now affiliated with tribes such as the Cowlitz, Nisqually, Squaxin Island, Puyallup, Muckleshoot and Yakama observed many volcanic events and depicted them through stories in an attempt to understand the world. People on the west side of the Cascades told their stories in various dialects of the Salishan language, while those on the east side spoke in dialects of the Sahaptin language. The name of the mountain varied with the dialect—Tacobed, Taqo'men, Takhoma, and Tahoma. These words are interpreted most often as "the mountain," but have also been expressed as "snow peak" or "water/young person." The stories provided in this activity are selected from broader collections available in local bookstores and libraries. From the descriptions, we can understand the kinds of geologic events that happened in the past, though the timing is less well known. These stories provide early human narratives about volcanic impacts in the Pacific Northwest— the same hazards facing people today.
Materials
Stories and graphics for teachers and students to use to examine and interpret Native American stories about geologic events at Mount Rainier.

Procedure
Introducing the Native American Tribes near Mount Rainier
You will need:
Graphic - "Map of Native American Tribes near Mount Rainier"
Graphic - "Early Observer Views Mount Rainier and a Lahar Spreading over the Valley Floor"
Use information in the background section and sidebars to guide students in a discussion about why they think Native Americans may have lived near Mount Rainier.

Point out the Native American groups and their tribal symbols on the map. Tribal names represent the modern remnant of previously larger populations.

Ask students to explain what the symbols tell us about features of importance to each Native American group.
Query students about why Native Americans ventured onto the slopes of Mount Rainier. What animals, plants, and rocks from Mount Rainier's slopes might these people have used?
Did Mount Rainier hold spiritual value? How does Mount Rainier hold value for inhabitants of the region today?
Discuss the definition and examples of metaphors. How might Native Americans have used metaphors in their stories about event?
Exploring Native American Interpretations of Geologic Events
You will need:
Copies of Student Page - "Native American Stories of Mount Rainier"
Copy of teacher discussion questions for "Native American Stories of Mount Rainier"
Examine and interpret five Native American stories about geologic events at Mount Rainier by making a storyboard.
Divide the class into groups of 5 to 6 persons.

Provide each group with one of the stories in "Native American Stories of Mount Rainier" student page.

Instruct each group to read their story aloud within their group.

Choose the level of discussion and activity below that is most appropriate for your students.

Use the "Native American Stories of Mount Rainier" teacher discussion questions to foster additional thought.

Option 1: Instruct students to make a storyboard depicting their story.
Explain that a storyboard is a cartoon rendering of the story. The storyboard is divided into frames, and each frame contains a student illustration depicting a scene.
The storyboard should include 2-5 illustrations of scenes from the story.
Students decide which scenes to include that will depict their interpretation.

Option 2: Direct students to make a storyboard, explain the storyboard to the class, then narrate or perform the story as a skit from their storyboard renderings.
Adaptions:
Instead of using a storyboard, discuss and read the stories aloud as a class.

In place of the storyboard, instruct each student group to write their interpretations of the story. Ask each group to share their interpretations with the class.
In classes for younger students, draw a storyboard on a large poster paper. Display the storyboard while reading the story, and then discuss the scenes with students.
Use stories about volcanic activity at other Cascade volcanoes. Students can find these stories using the internet and library resources.

Assessment
For assessment, review the story boards and look for evidence of student recognition that humans and volcanic activity have coexisted at Mount Rainier for many millennia; that people have used metaphor to interpret volcanic activity; and that students can identify and interpret the main points of a story. Assess application to real-world situations by assigning an additional storyboard that depicts current natural events.
Park Connections
Native Americans used oral, rather than written, communication to pass down historical information, heritage, and traditions. These oral traditions provide insight into the volcanic activity of Cascade Range volcanoes, like Mount Rainier, in the last 10,000 years.
Extensions
Learn all you can about the Native Americans living near Mount Rainier using computer research or library resources.
Interview a Native American who lives near one of the volcanoes in the Cascades about the significance of the volcano in their culture.

Make a poster-sized version of the "Map of Native American Tribes near Mount Rainier." Attach to the poster stories, photos, and drawings of people interacting with Mount Rainier to the poster.

Write your explanation to describe a volcanic eruption in the Cascades.

Interview people in your family about geologic events (e.g. volcanic eruptions, earthquakes, tsunamis, large floods) that they remember happening in their lifetimes.

Use video, audiotapes, photos and written records to assemble a record of uncommon and extraordinary natural events that have occurred in your community.
Additional Resources
Blukis Onat, Astrida R., 1999, Tahoma legends–history in two voices: BOAS Research
 Report 9300.2b for National Park Service Pacific Northwest Region, 126 p.
Carpenter, Cecelia Svinth, 1989, They walked before us–the Indians of Washington state:
 A Tahoma Research Publication, Tacoma, WA., 69 p.
Carpenter, Cecelia Svinth, 1994, Where the waters begin: Northwest Interpretive
 Association, Seattle, WA., 108 p.
Clark, Ella, 1953, Indian legends of the Pacific Northwest: University of California Press,
 Berkeley, CA., 225 p.
Guralnik, David B., 1980, Webster's new world dictionary: Williams Collins Publishers,
 Cleveland, OH., p. 893.
Wilson, Roy I., 2001, Legends of the Cowlitz Indian Tribe: Cowlitz Indian Tribe,
 Bremerton, WA., 401 p.
Last updated: February 28, 2015