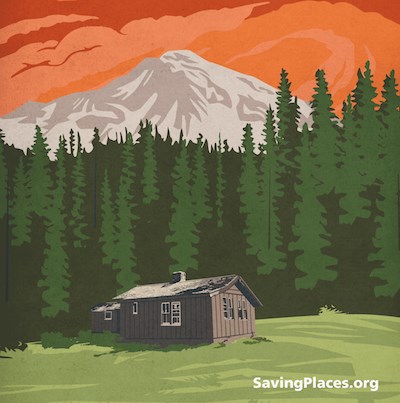 An icon of the Pacific Northwest, Mount Rainier calls to climbers and hiking enthusiasts from around the world. In addition to striking mountain vistas, visitors encounter the most complete example of early Park Service master planning and one of the most extensive collections of Rustic style architecture within the charming Longmire Historic District.
With over two million visitors a year experiencing Mount Rainier's trails, search and rescue teams are called into action at a moment's notice to help visitors. A Partners-in-Preservation project solves two problems at once: rehabilitate a historic Civilian Conservation Corps cabin to its original use and provide much needed housing for search and rescue volunteers critical to park emergency operations. In this way, volunteers staying at the Search and Rescue cabin carry the National Park Service's mission of preservation and stewardship into the next century.
You can get involved to make this project possible! Help Mount Rainier National Park return a historic cabin to its original use and provide housing for search and rescue volunteers by going to SavingPlaces.org.