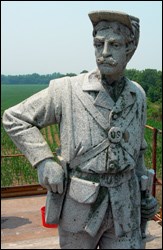 The 14th New Jersey Monument was the first of five monuments to be erected at Monocacy National Battlefield. It was dedicated on July 11, 1907 at a ceremony attended by 180 surviving members of the regiment.
To commemorate the 100th anniversary of the monument, a ceremony was held on July 7, 2007. In advance of the rededication, the National Park Service initiated a restoration of the 14th New Jersey Monument.
One aspect of the project focused on the removal of biological growth and other contaminants from the sculpture and base. In addition, a number of areas of damage - probably as a result of vandalism - were carefully repaired and restored. The monument's bronze plaques were cleaned and waxed, and the concrete apron surrounding the base was replaced. A plaque commemorating the monument's anniversary was unveiled at the rededication ceremony.