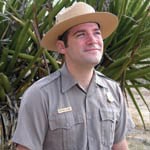 Wilderness
By Michael Glore


Before moving to Mojave I was a park ranger at Alaska's Katmai National Park & Preserve, five million roadless acres of spruce trees, brown bears, spawning salmon, and volcanoes. Here, I thought, was an unequaled example of "the Wild." When I signed on to Mojave National Preserve in Southern California, I felt resigned to the fact that I was leaving true wilderness behind.
I was wrong. I soon learned that nearly half of the 1.6 million-acre Mojave National Preserve is an incredibly diverse wilderness, ranging from the vast, desiccated playa of Soda Dry Lake, near Zzyzx, to the limestone crags and ancient white fir trees of Clark Mountain. Mojave Wilderness is congressionally designated wilderness: In 1964, by a nearly unanimous vote, the United States Congress enacted landmark legislation-the Wilderness Act-to "secure for the American people of present and future generations the benefits of an enduring resouce of wilderness."
So what? What is the significance of the Wilderness Act?
For me, as a federal employee and park ranger, it means that Mojave Wilderness must be administered in a manner consistent with the guidance provided by the Wilderness Act: as "an area where the earth and its community of life are untrammeled by man..." Permanent roads, structures, and commercial services are prohibited. I tell visitors, however, that "untrammeled by man" doesn't mean that people should stay out of wilderness areas. Just the opposite: wilderness is meant to be visited, explored, and experienced. You can hike, camp, watch wildlife, photograph, ride horses, or even hunt. You just can't use cars, trucks, or other motorized equipment to do so.
As a private citizen and frequent visitor to America's public lands, however, wilderness has perhaps the most meaning. Cut off from other human beings and the sights and sounds of modern society, deliberate and thoughtful action becomes the primary means of communicating with the world around you. My "wild" experiences are somehow intangible, fleeting, and, admittedly, hard to describe, but that mysterious uncertainty keeps me returning to wilderness.
Conservationist John Muir believed that "wilderness is a necessity." I agree: it has become an indispensable part of my life. But while it might be necessary, the existence of wilderness is not sufficient in itself. It requires action on our behalf. I think that's what naturalist and philosopher Henry David Thoreau meant when he claimed that, "in wildness is the preservation of the world." Note that he wrote about wildness (a state of being), not wilderness (a place). "Wildness" can happen almost anywhere. After all, by drawing lines on a map and placing signage around a landscape, can we really encapsulate "the Wild?" Some would argue that just the opposite occurs. But read between the signs: There truly is something special about designated wilderness that provides unique and unparalleled opportunities for "wild" experiences.
Mysterious, hard to define, life-affirming: wilderness is all these things. But perhaps most extraordinary of all is that in 1964 a government-the United States government-made available to every man, woman, and child, today and in the future, protected areas in which to experience something greater and more powerful than themselves: a humbling sense of vulnerability; a feeling of serenity growing with each passing moment; a sense of understanding and belonging to a shared natural heritage. If we could all have these experiences, the world would indeed be a better place.
So get out and into Mojave Wilderness. There's plenty of it around. What will it mean to you?